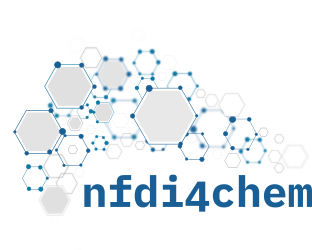 Welcome
Dear reader,
With our second NFDI4Chem newsletter we start a new series in which we present our task area leads. In this issue you will also find reports from recent and upcoming events such as the joint ontology webinar, our Chemotion "Stammtisch" and the NFDI session at the Wissenschaftsforum 2021. Moreover, we kick off the series "Repositories in profile" with the Chemotion Repository.
Let us know if you are interested in further topics we should cover. We are happy to hear from you (
contact@nfdi4chem.de
)!
Enjoy the read and
stay healthy!
Your NFDI4Chem Team
Get to know the consortium!
As announced in the last newsletter, we will introduce the leads of the six task areas (TA) step-by-step. In this newsletter, we start with the two spokespersons of the consortium, Prof. Christoph Steinbeck (lead of TA 1 - Management and co-lead of TA 4 - Standards) and Dr. Oliver Koepler (lead of TA 6 - Synergies).
Christoph Steinbeck studied chemistry at the University of Bonn, where he received his diploma and doctoral degree at the Institute of Organic Chemistry. His doctoral thesis focused on computer assisted structure elucidation of organic compounds. Realising that his research was hampered by the lack of open spectroscopic data, he diverted into creating databases in chemistry and biology and becoming an evangelist of open data, open source and open science.
Oliver Koepler studied chemistry at the University of Kiel. After his diploma he enrolled at TU Braunschweig where he received his PhD in the field of natural product synthesis in organic chemistry. He discovered his passion for chemistry software development during the final phase of his studies by working on the chemistry software Chemograph Plus and the later development of the web database Designer Drugs Online derived from the databank Mass Spectra of Designer Drugs.
NFDI Session at the Wissenschaftsforum

NFDI4Chem organizes a special session at the virtual conference
The Wissenschaftsforum is one of the most important conferences organized by the GDCh. This year's event will be hosted virtually in Munich from 29 August to 1 September 2021 (
https://www.wifo2021.de/
). Abstract submission is open until 28 April. NFDI4Chem organizes an NFDI session with contributions from chemistry-related consortia on all topics in chemical RDM on 1 September.
NFDI4Chem article published in the "Bunsen-Magazin"
Overview of the First Project Phase
The article, published in German, appeared in the 2/2021 issue of the Bunsen-Magazin and gives an overview of NFDI4Chem's main tasks in the first project phase. It summarizes the work on digitization and research data management of the five technical task areas of NFDI4Chem ...
Research Data Management Tutorials for Undergraduate Students

Teaching RDM at the RWTH Aachen University in an inorganic chemistry lab
Basic concepts of research data management (RDM) are becoming more and more important in the course of digitizing laboratories. Recently, the RWTH Aachen University taught RDM to 5th-semester students as part of an advanced inorganic chemistry course, introducing the topic to aspiring chemists before they start their bachelor thesis. To make general RDM concepts more accessible, short videos were produced ...
Profile of Repositories
For chemists, it is crucial to know the advantages of different data repositories in order to find the best fit for their research data requirements. In this and upcoming newsletters, we provide a brief overview of individual data repositories in chemistry.
To support research data management, Chemotion not only offers a freely available electronic laboratory notebook but also a repository for molecules, reactions and research data. The seamless connection between both tools saves a lot of time.
Event Throwback

Joint Webinar: Ontologies in Science and Technology

Ontologies can describe things such as substances, equipment and reactions
In January, NFDI4Chem together with NFDI4Ing and NFDI4Cat hosted a joint webinar on ontologies in science and engineering. Nearly 200 participants attended to learn how ontologies can be used to formally describe the knowledge of a domain and to generate machine-interpretable research data. Presentations covered topics from knowledge engineering, ontology design to best practices in academic and industry projects.
"Stammtisch" on the Electronic Laboratory Notebook and Repository "Chemotion"

The Place for Discussions Around Chemotion and more
In January, our monthly "Stammtisch" on the electronic laboratory notebook (ELN) and repository Chemotion opened with a brief summary of the NFDI4Chem project by Prof. Christoph Steinbeck. The topics of the following events were the ELN Chemotion, the Repository of Chemotion and Ontologies in Chemistry. Importantly, however, these presentations serve as an introduction for the main, unrecorded part of the "Stammtisch": an open and wide discussion, in which comments and suggestions for enhancements around Chemotion or RDM in the field of chemistry, in general, are most welcome. The next "Stammtisch" is scheduled for April 30th. Sign up now and help us improve Chemotion!
Interested in Research Data Management?
Find webinars, trainings and some talks in our YouTube channel or follow us on Twitter.
Contact: Prof. Christoph Steinbeck

Email: contact@nfdi4chem.de
Phone: +493641948171
Website: https://nfdi4chem.de
Friedrich Schiller University Jena
IAAC
Lessingstr. 8
07743 Jena
NFDI4Chem is supported by DFG under project number 441958208