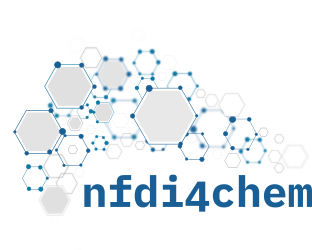 Welcome
Dear Reader,
With our third NFDI4Chem Newsletter we introduce recently launched services, the NFDI4Chem Helpdesk and the NFDI4Chem Terminology Service. In this issue you will also find reports from recent and upcoming events such as the new NFDI4Chem Talk Series, our regular Chemotion "Stammtisch", and the NFDI session at the Wissenschaftsforum 2021. Moreover, we continue presenting our task area leads, different data repositories, and much more.
Let us know if you are interested in further topics we should cover. We are happy to hear from you
!
Enjoy the read and
stay healthy!
Your NFDI4Chem Team
Get to know the consortium!
In the last newsletter we started to introduce the leads of the six task areas (TA) step-by-step. In this newsletter we present Dr. Nicole Jung (lead of TA 2 - SmartLab).
Nicole Jung studied chemistry at the University of Frankfurt am Main. After her diploma in 2004 she changed to KIT, Karlsruhe Institute of Technology (formerly: University Karlsruhe (TH)), where she worked in the field of combinatorial chemistry and method development for solid-phase chemistry. She received her PhD under the supervision of Prof. Stefan Bräse in 2008. Nicole is working at the Compound Platform (ComPlat) as part of the group of Stefan Bräse at KIT-Campus North.

NFDI4Chem, Consortium "Gemäß Satzung"
NFDI4Chem has been created as a consortium within the NFDI e.V. and has confirmed its spokespersons at its first general meeting.
The "Nationale Forschungsdateninfrastruktur eingetragener Verein" (NFDI e.V.; e.V. is a type of German legal entity) was founded on 12 October 2020. It gives the NFDI the legal framework it needs to operate independently. Founding members of the "Verein" are the German Federation and all its 16 states. Every organisation that is part of a funded NFDI consortium or any legal entity that is expected to make a substantial contribution to realise the cause of the NFDI e.V. can apply to become a member (
Kurzinfo NFDI e.V
).
NFDI4Chem Helpdesk Service Online
The NFDI4Chem Helpdesk was launched mid-April 2021 as the first dedicated service of the NFDI4Chem consortium. Since then, the first level help desk support team of TIB Hannover & FSU Jena has served as the first point of contact for all questions regarding the NFDI4Chem initiative as well as questions about research data management (RDM) in chemistry, services of NFDI4Chem or NFDI, Smartlab, ELNs & data repositories in general and in particular (e.g. Chemotion). Thus, the help desk acts as an important link to actively engage the chemical community in the NFDI4Chem consortium's efforts.
If you have any questions or suggestions, the NFDI4Chem Helpdesk team is looking forward to your inquiries via email or via the contact form on our NFDI4Chem website.

Do You Already Know NMRium.org?
Allow us to introduce one of our cooperation partners to you, the
NMRium project
. NMRium is a joint project of
Zakodium
, a chemoinformatics company from Switzerland, and the DFG-funded
IDNMR project
. Together, they are developing a web-based visualizer and editor for 1D and 2D NMR spectra.
MassBank on Ice
Did you know that MassBank data is now literally stored on ice for a thousand years?
At the beginning of February last year (precisely on 02.02.2020!) GitHub took a snapshot of all project repositories, put everything as QR code on durable film and deposited them into an old coal mine in Svalbard, Norway. Never heard of that place? It is also known as Spitzbergen, it was declared a demilitarised zone a hundred years ago, has permafrost, hosts the global seed vault and now also 21 terabytes of open source and open data. For a brief video (2:27 min) of that endeavour, head over to YouTube.

NFDI4Chem & Friends Session at the GDCh-Wissenschaftsforum Chemie 2021
The GDCh-Wissenschaftsforum Chemie is one of the major conferences for chemists in Germany. The programme for the 2021 edition has just been published and can be found here. NFDI4Chem will organise a special session for 1 September 2021, which will assemble all consortia who are chemistry-based or -related such as NFDI4Cat, FAIRMat, DAPHE4NFDI and NFDIMatWerk. In the afternoon session a workshop on electronic lab notebooks will be held to inform participants about the technical possibilities regarding SmartLabs. We are looking forward to many fruitful discussions.
Event Throwback

NFDI4Chem Talk Series

The new lecture series of NFDI4Chem launched in June
The NFDI4Chem Talk Series started with a presentation from Prof. Lee Cronin (University of Glasgow) on Universal Chemical Synthesis Machines and Chemputation. Around 80 participants attended to listen to one of the leading scientists in digital chemistry and to take advantage of the opportunity to participate in the lively discussion. The next presentation of our Talk Series will be announced soon
. Stay tuned!
"Stammtisch" on the Electronic Laboratory Notebook and Repository Chemotion

The place for discussions around Chemotion and more
After presentations on NFDI4Chem, several topics around Chemotion and ontologies in chemistry, we recently started a short series within the "Stammtisch" with Dr. Gerd Blanke from StructurePendium. As an expert for InChI, he provided deep insights into the basics of InChI and RInChI during the last two events for better understanding of the mechanisms behind the scenes of chemical data processing. Don't miss the next part on InChI for organometallics and inorganics on 30 July 2021 and sign up now
! In the meantime, you can find recordings of the last presentations on our website. These presentations serve as an introduction for the main, unrecorded part of the "Stammtisch": the open and wide discussion, in which you can comment and make suggestions to help us improve Chemotion!
Interested in Research Data Management?
Find webinars, trainings and some talks in our YouTube channel or follow us on Twitter.
Contact: Prof. Christoph Steinbeck

Email: contact@nfdi4chem.de
Phone: +493641948171
Website: https://nfdi4chem.de
Friedrich Schiller University Jena
IAAC
Lessingstr. 8
07743 Jena
NFDI4Chem is supported by DFG under project number 441958208