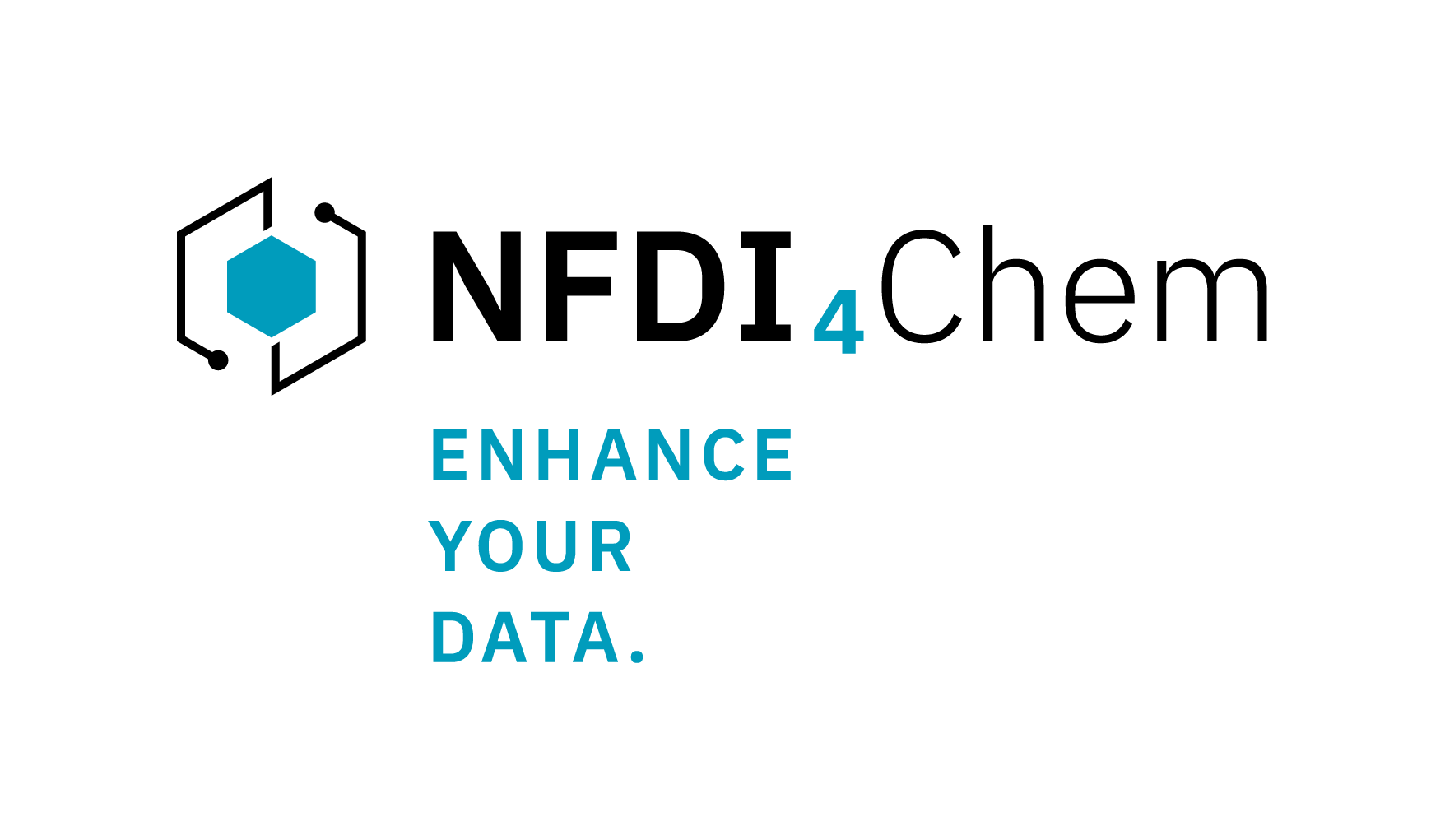 Welcome
Dear Reader,
With our fifth NFDI4Chem Newsletter, we would like to report on the recently launched NFDI4Chem Knowledge Base, our 2nd Consortium Meeting, our new logo, and our advisory boards. In this issue you can also read about recent and upcoming events such as the Editors4Chem Workshop, our regular NFDI4Chem events, and our newly developed workshop series: FAIR RDM - Basics for Chemists. Moreover, we continue presenting our task area leads, different data repositories, and much more.
Let us know if you are interested in additional topics that we should cover. We are happy to hear from you
!
Enjoy the read and
stay healthy!
Merry Christmas and a good start into the year 2022!
Your NFDI4Chem Team
Get to know the consortium!
In our fifth newsletter we continue to introduce the leads of our six task areas (TA). Meet Steffen Neumann, co-lead of TA 4 - Standards!
I am Steffen Neumann - head of the Research Group
Bioinformatics and Scientific Data
at the Leibniz Institute of Plant Biochemistry in Halle (Saale). I have prior experience in the area of statistical mass spectrometry data analysis and metabolite identification. In this context, I continuously advocate open data and open standards, leading to community-wide e-infrastructures, and exploiting these for functional annotation through computational metabolomics analyses.
Short Report on the 2nd Consortium Meeting
NFDI4Chem held its second consortium meeting on the 14th and 15th of October 2021. The members of the consortium were joined by representatives from all four Advisory Boards. A full programme highlighted the progress of the consortium after the first year of work as well as the challenges ahead.
October 2021 marked the first anniversary of NFDI and all NFDI consortia of the first selection round, including NFDI4Chem, of course. To look back on what was achieved in the first year of work and to cast an eye on the challenges ahead towards building a national research data infrastructure in chemistry, the partners in NFDI4Chem gathered on October 14 and 15 for their second consortium meeting. Again, owing to the ongoing pandemic, plans to meet in person were abandoned at short notice and the event went virtual once more.
A New Look for NFDI4Chem
NFDI4Chem launched its new logo in the last quarter of 2021. The simple, clear, and recognisable graphic was designed to align with the key concepts of research data management in chemistry.
On November 10, a little over one year after the consortium's kickoff, NFDI4Chem launched its new corporate identity. The original logo, composed of a flurry of hexagonal shapes tinged in light shades of blue, was well-liked by the majority of the consortium members. However, due to its complexity and level of detail, it proved impractical for many digital applications. Therefore, NFDI4Chem commissioned the design of a new logo and corporate identity early in 2021.
Workshop Series - FAIR RDM: Basics for Chemists
To achieve NFDI4Chem's goal of ensuring that good research data management (RDM) will become second nature to chemists, it is essential that we provide appropriate training opportunities to the community to support them in making their research data FAIR (findable, accessible, interoperable & reusable). To this end we are excited to inform you about a new NFDI4Chem Workshop series starting in 2022: FAIR Research Data Management: Basics for Chemists.
In this two-day course we will take you through the basics of RDM while applying these to a chemistry context. These basic concepts, principles, and more will not only be taught theoretically, but with additional interactive elements involving individual and group work.
Launch of NFDI4Chem Knowledge Base
Are you confronted with research data management in chemistry and are feeling lost?
NFDI4Chem is proud to announce the launch of its knowledge base.
We were so impressed by Elixir-Converge's RDMKit that we adopted its architecture as a starting point. You can enter the knowledge base via different points of entry. Choose your role (e.g. group leader, student) to find out what topics are particularly relevant to you. Entry via your specific sub-discipline of chemistry such as synthetic organic or inorganic chemistry will give you key information on the analytical methods used for your sub-discipline and how to deal with the data they produce in a FAIR (Findable Accessible Interoperable Reusable) way.
1st Editors4Chem Workshop
NFDI4Chem together with Leah McEwen (Cornell University, Ithaca) and Vincent Scalfani (University of Alabama, Tuscaloosa) from IUPAC organised the 1st Editors4Chem workshop, which was held on the 3rd of November 2021.
This workshop is part of the holistic strategy in NFDI4Chem to ramp up the adoption of FAIR data in chemistry by interfacing with the scholarly publication processes. The importance of this topic to the publishers is demonstrated by the fact that no less than 18 editors (including many Editors-in-Chief!) representing at least 25 chemistry journals across five publishers signed up for this three

-

hour workshop.
NFDI4Chem Advisory Boards
NFDI4Chem has assembled its Advisory Boards (ABs). With five to six members each, they represent four different communities: industry, publishers, the national and the international research community.
The ABs provide independent and scientific support and advice to the consortium. They assist NFDI4Chem in ensuring the project's strategy and progress in terms of meeting the project's objectives.
Following suggestions from the consortium and discussions in the Steering Committee, the consortium speakers invited the representatives to join the ABs. They first assembled at the Consortium Meeting 2.0 and shared their first impressions of the initiative's efforts so far. The ABs will continue to meet once a year alongside the full consortium meeting. Their evaluation of the project's progress will ensure that the consortium is on track and develops and delivers services which align with the mission of the NFDI in general and which address the needs of the chemistry community.
For more information and for a full list of members of our Advisory Boards, take a look at our website.
Contributions to Sections in NFDI
NFDI4Chem is actively involved in several of the recently founded sections of NFDI which tackle overarching tasks across the NFDI consortia.
NFDI4Chem and NFDI4Ing jointly coordinate the work in

the

section Education & Training (EduTrain). The concept for the section has already been published on Zenodo. EduTrain focuses on the development of multidimensional teaching materials for all levels in teaching and research.
NFDI4Chem Article Published in "Nachrichten aus der Chemie"
Editorial article "Finally recovering the data treasure"
The article, published in German, appeared in the October issue (2021) of the Journal "Nachrichten aus der Chemie" and gives suggestions on how to reveal the full potential of research data with modern tools. Interested? Read the full text here.
Repositories in Profile
For chemists, it is crucial to know the advantages of different data repositories in order to find the best fit for their research data requirements. In this newsletter, we provide a brief overview of SupraBank as part of our series "repositories in profile".
SupraBank
Basic information
❏
Domain:
Organic Chemistry
❏
Usage:
Open Access
(data view), registration required (data contribution)
Diamond Open Access Publishing
Chemical Science
The Royal Society of Chemistry's flagship journal, Chemical Science is diamond open access, which means all articles are free to read, with no publication charges for authors. The decision was taken to flip to open access at the beginning of 2015, and the RSC is proud to say that they have

made over 8,000 leading research articles permanently free for both authors and readers during this time. It is part of the RSC's mission to support the dissemination of chemical science knowledge to the widest possible audience, and they aim to ensure that open access is available to all. Publishing Chemical Science as diamond OA is one of the ways that the RSC is working to make open access inclusive, ensuring equitable publishing for those without funds.
Recommendations of the DFG
Our contributions to conferences and symposia
Over the last three months, we joined several conferences and symposia to give presentations on diverse ongoing topics in NFDI4Chem. In October, Sonja Herres-Pawlis presented NFDI4Chem and our vision at the Beilstein Open Science Symposium 2021 (see slides
here
). In November, she contributed to the NRW-wide programme of the day of research data, organised by fdm.nrw (slides and talks can be found
here
).
In December, Sonja Herres-Pawlis presented the utlitisation of Chemotion in teaching at the NFDI4Ing forum on electronic lab notebooks. Nicole Jung and John Jolliffe talked about NFDI4Chem and digitising research workflows in chemistry at the
HeFDI Data Talks
. Moreover, Nicole Jung and Oliver Koepler reported on advancing the usage of metadata with ELNs at the NFDI Infra Talk.
The bottom line of all these talks is the cultural change in chemistry which starts in the Bachelor studies. The ELN
Chemotion
offers a facile way to organise chemical research data and subsequently transfer them to the Chemotion Repository.
NFDI4Chem Talk Series
Our lecture series continued in October with a contribution from Luc Patiny (Zakodium Sàrl) on Extract knowledge from chemical data directly in the browser. In November, Niklas Blomberg (ELIXIR) talked about Developing ELIXIR as a distributed collaborative infrastructure for data management. Around 50 participants took advantage of the opportunity to listen to two of the leading experts in data science and to participate in the lively discussions, respectively. The next presentation of our Talk Series will be announced soon. Stay tuned!
Chemotion/NFDI4Chem "Stammtisch"
The first year of the Chemotion/NFDI4Chem Stammtisch had some exciting contributions to offer: After presentations on NFDI4Chem, several topics around Chemotion and ontologies in chemistry as well as a series with five episodes on InChI, Dr. Nicolas Carpi talked about eLabFTW recently.
Don't miss the next part of the Stammtisch on Molecular Machine Learning (Jun.-Prof. Dr. Pascal Friederich) on January 28 and sign up now!
In the meantime, you can find recordings of the last presentations on our website. These presentations serve as an introduction for the main, unrecorded part of the "Stammtisch": the open and wide discussion, in which you can comment and contribute!
Chemotion ELN Q&A Session
We started to offer a regular Chemotion ELN Q&A Session in July, in which members of our Chemotion team will give general introductions and answer questions on Chemotion virtually via Zoom.
Of course, the Q&A Session will continue next year - every

other

Thursday at 15.00 CEST! During registration you can indicate which topics should be covered. Don't miss this opportunity to ask your questions! The next Q&A Session is scheduled for January 27 at 15.00 CEST.
Interested in Research Data Management?
Find webinars, trainings and some talks in our YouTube channel or follow us on Twitter.
Contact: Prof. Christoph Steinbeck

Email: contact@nfdi4chem.de
Phone: +493641948171
Website: https://nfdi4chem.de
Friedrich Schiller University Jena
IAAC
Lessingstr. 8
07743 Jena
NFDI4Chem is supported by DFG under project number 441958208