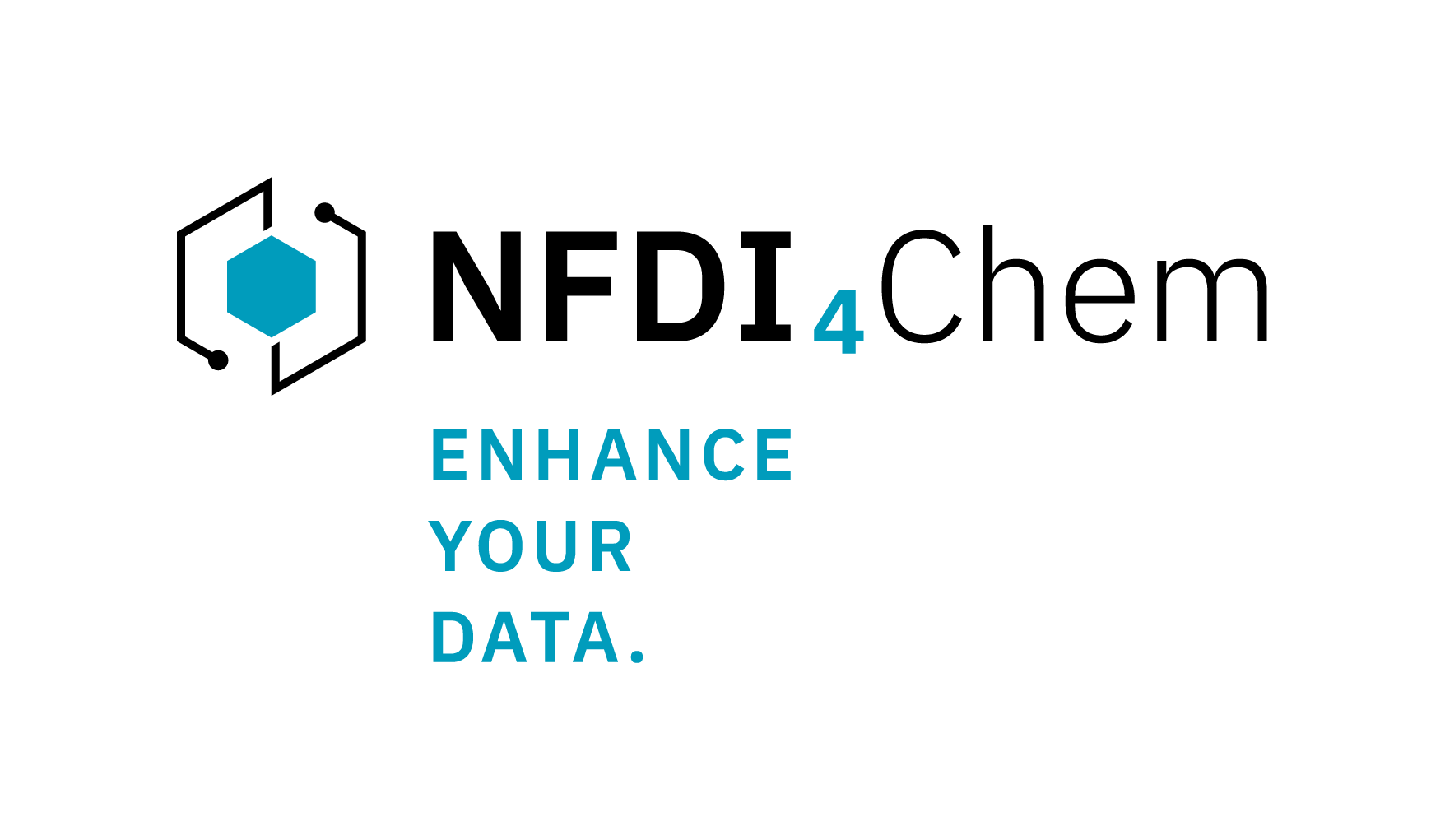 Welcome
Dear Reader,
With our seventh NFDI4Chem Newsletter, we would like to alert you to the upcoming Ontologies4Chem Workshop and report on a couple of recent meetings. In this issue, you can also read about recently published work on Ontologies4Chem and guidelines for sharing research in Chemotion as well as about our contributions to the NFDI sections and Base4NFDI. Moreover, we continue presenting different data repositories, recent and upcoming events and much more.
Let us know if you are interested in additional topics that we should cover. We are happy to hear from you
!
Enjoy the read and
stay healthy!
Consortium Meeting 2.5 - Connecting the Dots
On April 28, 2022, members of the NFDI4Chem consortium came together virtually in the morning to reflect on the progress of the project so far.

Presentations set around three cross-cutting topics and a session dedicated to additional highlights also allowed for casting an eye into the future of the initiative. Roughly 60 participants from across the consortium were joined by ten members of the initiative's four advisory boards.
Work in Sections/Contribution to the Base4NFDI Proposal

The sections are bodies of the NFDI e.V. in which members of all NFDI consortia work together on various cross-cutting topics of common interest.

This spring the sections elected their spokespersons.

We congratulate all newly elected spokespersons, particularly of course the members of our own consortium:

Dr. Oliver Koepler (Section Metadata), Prof. Dr. Sonja Herres-Pawlis (

Section EduTrain

) and Prof. Franziska Boehm (

Section

ELSA)

.
More information about the sections, their agenda and working groups will be published on the NFDI website
soon.
All sections have contributed to the proposal for "Basic Services for the NFDI" Base4NFDI which was submitted as a joint proposal of all 19 NFDI consortia on April 29. Base4NFDI will develop basic services for the NFDI and is the final outcome of ....
Ontologies4Chem Workshop
September 7 & 8, 2022, 14.00 - 18.00 CEST, Online
Ontologies are a cornerstone of FAIR machine-readable data. They provide terms, relations and logic to semantically annotate and link research data building knowledge graphs. Integrating ontologies into electronic lab notebooks, data repositories and software tools enables users to create rich annotated data from the very beginning. In the past, several ontologies with relation to the chemistry domain have been developed. In Task Area 6 Synergies we evaluate the application of these ontologies for research data management, identify gaps and initiate the development of missing ontologies
To our first Ontologies4Chem Workshop we invite ontology curators, ontology engineers, software and data repository developers and domain experts currently applying ontologies or with an interest to do so in the future.
On May 23 and 24, the FIZ Karlsruhe's department for mathematics in Berlin hosted the first in person meeting of the NFDI4Chem TA-PMs (task area project managers). The meeting's agenda featured a general training on OpenProject as well as discussions on various administrative topics.
For those unfamiliar with the operative structure of NFDI4Chem, the leads of all six task areas have appointed one or two task area project managers (TA-PMs) each. They meet on a regular basis, usually every two weeks via Zoom, to complete various administrative tasks, monitor the project's progress, share success stories and discuss problems being met. On May 23 and 24, all seven of them, met in person ....
For chemists, it is crucial to know the advantages of different data repositories in order to find the best fit for their research data requirements. Here, we provide a brief overview of STRENDA DB as part of our series "repositories in profile".
STRENDA DB - Standards for Reporting Enzymology Data
Basic information
❏
Domain:
Life Science, Chemistry, Biological and food chemistry, Molecular Chemistry
❏
Usage:
Open Access
(data view), registration required (data contribution)
NFDI4Chem Website Gets New Look
Earlier this year, NFDI4Chem changed its logo to a fresh new design. In a quick fix, the existing website was fitted with the new icon and painted in the new colours.

More recently, timespin, the agency that had been in charge of the new design, also gave the website a complete overhaul. Go to nfdi4chem.de to take a look and find out for yourself.
Work with Us!
Current job offers in NFDI4Chem:
Ontologies4Chem: The Landscape of Ontologies in Chemistry Published
Why are ontologies an essential building block not only for NFDI4Chem, but all NFDI?
FAIR data is all about human AND machine-readable data. Ontologies are used to semantically describe data, information and knowledge in a domain.

Terms, relationships, and logic described in an ontology enable us to semantically annotate and link data to create knowledge graphs. Quite a few chemical ontologies already exist to describe molecules, reactions, the role of molecules in reactions and analytical procedures. These semantic descriptions take data to the next level, making them machine-understandable.

To address the application of ontologies in research data management we recently published an overview of ontologies in chemistry suitable to represent concepts of research and research data in Pure and Applied Chemistry. The reviewed ontologies were evaluated against several criteria derived from the FAIR data principles and their possible application in the digitisation of RDM workflows. To summarise our criteria shortly; to be included an ontology had to be made by domain experts, published and maintained in a FAIR way, being actively and openly maintained as well as being used in established applications.

Read more:

P.

Strömert, J. Hunold, A. Castro, S. Neumann, O. Koepler, Ontologies4Chem: the landscape of ontologies in chemistry, Pure Appl. Chem. 2022, doi:

10.1515/pac-2021-2007

.
Guidelines for Sharing in Chemotion - Published in Chemistry-Methods

Sharing of data with the scientific community plays an important role in conducting FAIR and sustainable research. As an example, reporting experimental results (also negative ones) in a systematic, machine-readable way will enable automated data curation and machine learning processes in the near future.
On the smallest scale, experimental data are shared within laboratories, working groups, or institutions. The electronic laboratory notebook Chemotion provides a sharing feature which allows to share data easily with others on various hierarchy levels and furthermore offers the possibility to generate joint databases for almost every desirable need.
In this publication in Chemistry-Methods, we explain the sharing feature of Chemotion and propose a sharing policy as a best practice model to have a consistent and easily applicable guideline for all scientists in a laboratory, working group, or institution. These guidelines may serve as a foundation and recommendation for other scientists who like to use the ELN Chemotion and its sharing feature.
Read more: F. Fink, H. M. Hüppe, N. Jung, A. Hoffmann, S. Herres-Pawlis, Sharing is Caring: Guidelines for Sharing in the Electronic Laboratory Notebook (ELN) Chemotion as applied by a Synthesis-oriented Working Group, Chem. Methods 2022, doi: 10.1002/cmtd.202200026.
First Chemistry Paper Using RADAR4Chem
In the research article in the Journal of Computational Chemistry entitled "Geometrical benchmarking and analysis of redox potentials of copper(I/II) guanidine-quinoline complexes: Comparison of semi-empirical tight-binding and DFT methods and the challenge of describing the entatic state (part III)" Herres-Pawlis & Leonhardt et al. describe copper model complexes for the entatic state theoretically.
They use the semi-empirical tight-binding method GFN2-xTB, the density functional TPSSh and the double-hybrid functional B2PLYP and evaluate the methods on five different complex pairs (Cu(I) and Cu(II) complexes), and compare how well calculated energies can predict the redox potentials. They find that B2PLYP and TPSSh yield better accordance with the experimental structures but that GFN2-xTB performs surprisingly well in the geometry optimisation at a fraction of the computational cost. TPSSh offers a good compromise between computational cost and accuracy of the redox potential for real-life complexes.
The DFT coordinates have been deposited at the RADAR4Chem repository (dataset).
RADAR4Chem accepts every kind of chemical data annotated with their metadata.
Report from the InChI Technical Sessions in Cambridge, UK
Technical sessions were held in-person and virtually from June 17 to 19 for several of the extension projects for the InChI Standard. Topics covered included organometallics, extended stereochemistry and tautomers.
Notably, the group agreed to maintain metal connectivity in further InChI developments which will solve many problems in the description of molecular inorganic compounds - arguably the most important conclusion of the meeting. If you are interested in the InChI Outreach to receive the latest news and information about the InChI code, please click here.
Analytica Conference 2022 in Munich
From June 21 to 24, the world's leading trade fair for laboratory technology, analysis, and biotechnology, the
Analytica
, took place in Munich.
As one of this year's highlights, the German Society for Biochemistry and Molecular Biology (GBM), the German Society for Clinical Chemistry and Laboratory Medicine e.V. (DGKL), and the German Chemical Society (GDCh) dedicated a whole conference day to the topic of Research Data Management (RDM). On June 23 three consecutive sessions chaired by the respective societies featured different aspects of RDM. Within GDCh's final session "Research Data Management III'' Fabian Fink from the Herres-Pawlis group at RWTH Aachen University presented NFDI4Chem and the software Chemotion with its electronic laboratory notebook (ELN) and repository. The presentation slides are published on Zenodo, where they are freely accessible and downloadable.
Upcoming Events
Workshop: FAIR Research Data Management - Basics for Chemists
This introductory workshop for Research Data Management (RDM) in chemistry is offered borth virtually as well as on premises for individual institutions. If you are interested in a workshop for your institution, please contact
helpdesk@nfdi4chem.de
. The online version takes place every two months for anyone who wishes to take part. The next workshop will take place on August 17 & 19 and is open for registration.
Find out more and sign up
!
Chemotion ELN Hands-on Workshop
On Friday, July 8, from 09.00 to 15.00 CEST we will offer the first open Chemotion ELN Hands-on Workshop virtually via Zoom. We will introduce the electronic laboratory notebook Chemotion and its features for beginners in an interactive way. Members of our Chemotion team will explain the various features of the ELN in several modules combined with specific exercises in which you will create and edit ELN entries yourself.
Interested in participating? Then don't miss your chance and
sign up now
! Unable to attend? No problem, the next Chemotion ELN Hands-on Workshop will take place on August 26 and more will follow. Upon request, we can also carry out a workshop for your institution. If you are interested, please contact
helpdesk@nfdi4chem.de
.
Chemotion/NFDI4Chem "Stammtisch"
After an inspiring first half of the year, we are taking a summer break. The Stammtisch will be back on September 30.
September 30
: News from the InChI (
Prof. Sonja Herres-Pawlis
)
October 28
: Chemistry features FAIR4Chem Awards 2022 (
FAIR4Chem Awardees
)
Don't miss any upcoming Stammtisch (at 14.00 CEST) and sign up now! In the meantime, you can find recordings
of previous presentations on our website!
Chemotion ELN Q&A Session
Every other Thursday at 15.00 CEST members of our Chemotion team give a general introduction to and answer questions on Chemotion virtually via Zoom. During registration you can indicate which topics should be covered.
Don't miss the last opportunity to ask your questions before the summer break! Hurry up and
register
now! After the session on July 14, the Q&A Session will be on a short summer break until September 8.
Interested in Research Data Management?
Find webinars, trainings and some talks in our YouTube channel or follow us on Twitter.
Contact: Prof. Christoph Steinbeck

Email: contact@nfdi4chem.de
Phone: +493641948171
Website: https://nfdi4chem.de
Friedrich Schiller University Jena
IAAC
Lessingstr. 8
07743 Jena
NFDI4Chem is supported by DFG under project number 441958208