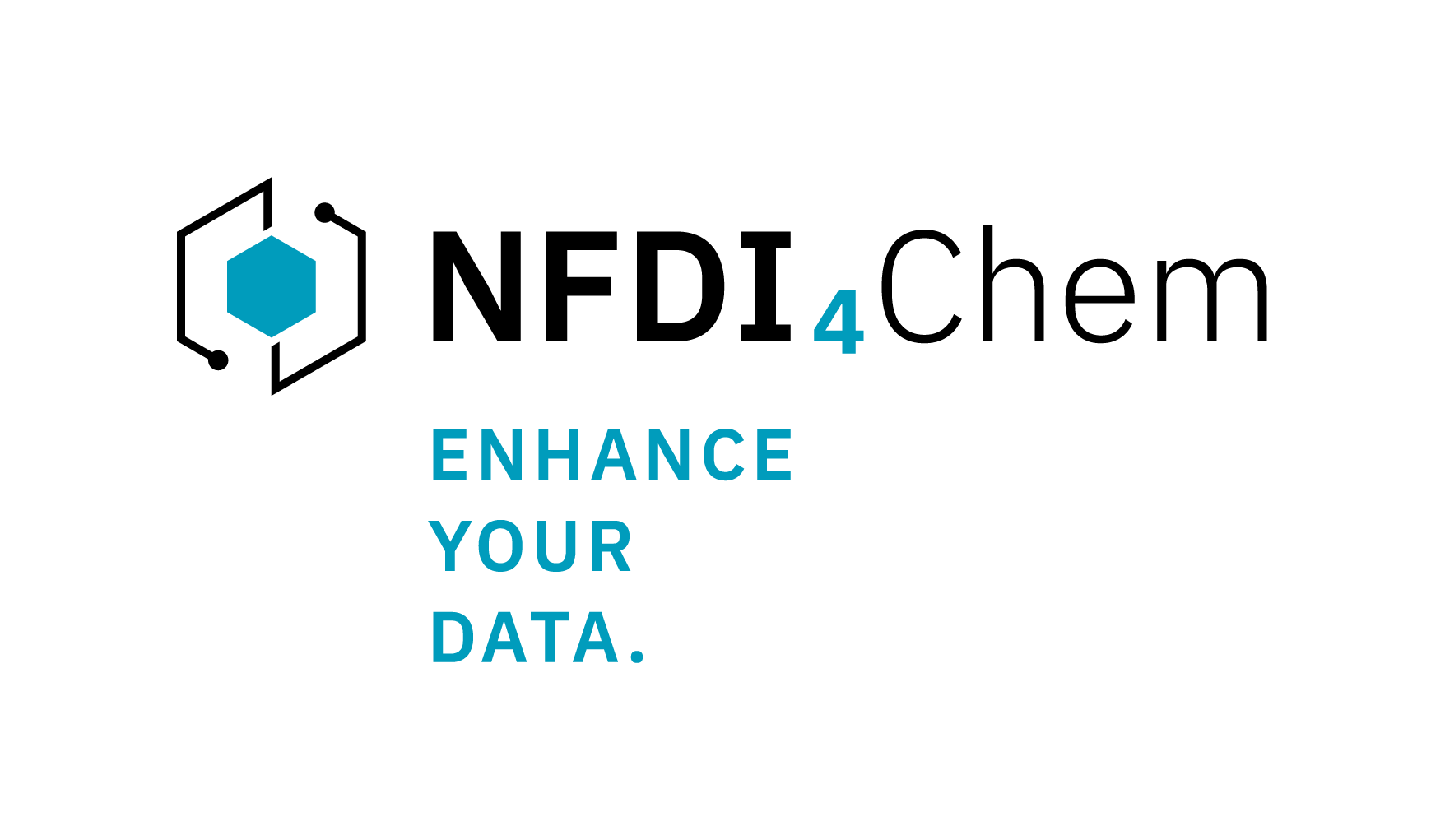 Welcome
Dear Reader,
With our eighth NFDI4Chem Newsletter, we would like to alert you to the FAIR4Chem Award 2023. In this issue, you can also read about the Ontologies4Chem workshop as well as about news on TUCAN and RADAR4Chem. Moreover, we present recent conference attendances and upcoming events.
Let us know if you are interested in additional topics that we should cover. We are happy to

hear from you
!
Enjoy the read and
stay healthy!
Workshop: Ontologies4Chem
The first Ontologies4Chem Workshop organised by NFDI4Chem took place on September 7 and 8 as an online event with over 50 international participants.
The overarching aim of the workshop was to bring together experts from various ontology projects with domain/ontology experts, software developers and service providers from NFDI4Chem and other NFDI consortia related to chemistry. After a brief introduction of NFDI4Chem and our previous work on identifying ontologies relevant to the NFDI4Chem context, the focus of the first day of the workshop was on reports and discussion of the current state and future plans of most of the relevant chemistry ontologies (CHEMINF, Chebi, ChIRO, EDAM, CHEMROF, OBI, SIO, CHMO, RXNO, MOP) presented by their curators. The presentation of the ontologies was complemented by the IUPAC Gold Book as definition source. As an additional perspective, NFDI4Cat and NFDI4Health presented their plans and application of ontologies.
FAIR4Chem Award 2023
The FAIRest dataset in chemistry!
With the FAIR4Chem Award, the NFDI4Chem consortium honours researchers in chemistry who publish their research data. The award is given for published chemistry research datasets that best meet the
FAIR principles
(findable, accessible, interoperable, and reusable) and thus make a significant contribution to increasing transparency in research and the reuse of scientific knowledge.
The prize money amounts to 500 (five hundred) Euros, which can be used freely, and is financed by the Fonds der Chemischen Industrie. The award will be presented during the JCF Frühjahrssymposium 2023, including a talk about the winning dataset by the awardee. From September 15 to November 15, 2022, you can submit your datasets. For more information on the FAIR4Chem Award, check out the FAIR4Chem website.
TUCAN: Publication & Interactive Demo Version Online
TUCAN is a canonical serialisation format that is independent of domain-specific concepts of structure and bonding.

The atomic number is the only chemical feature that is used to derive the TUCAN format. Other than that, the format is solely based on the molecular topology.

The serialisation procedure generates a canonical "tuple-style" output which is bidirectional, allowing the TUCAN string to serve as both identifier and descriptor. Use of the Python NetworkX graph library facilitated a compact and easily extensible implementation.
Now, an
online version
is presented where chemists can have a look and try to convert their molecules into the TUCAN format, either from drawing directly or from a mol-file.
News from RADAR4Chem
Since the last software release in July 2022, research datasets can be published in RADAR4Chem even with an unlimited embargo.
In this case, only the descriptive metadata will be published; the actual research data will remain permanently hidden from public view. However, these datasets can be shared individually with other registered users via a request and release option.
So far, data publications in RADAR4Chem can be delayed with embargo periods of 1 to 12 months, for example to fulfil requirements of journals. In individual cases, however, there may be reasons not to make research data permanently publicly accessible, e.g. in the context of patent applications or confidentiality clauses in cooperation agreements. With the new publication option "unlimited embargo", RADAR4Chem gives data providers the opportunity to share research data (that could otherwise only be archived) with the public in the best possible way, following the FAIR principles.
More information can be found
here
, an example
here
.
NFDI4Chem Article Published in "Nachrichten aus der Chemie"
Article "Treatment of research data" online now.
The article appears in the October issue (2022) of the Journal "Nachrichten aus der Chemie" and highlights the tools and solutions we offer for the support of the chemical community. Read the full text
here
.
The NFDI4Chem Conference Train is Running…
In the last weeks, the NFDI4Chem team was present on numerous conferences with conference booths, lectures and posters to inform the chemical community on recent developments on electronic lab notebooks, repositories and new tools for a smart lab.
The conference series started with the EuChemS conference in Lisbon, followed by the ORCHEM in Münster, the Koordinationschemietreffen in Jena, the Bunsentagung in Gießen, the MAKRO2022 in Aachen, the DPhG annual meeting in Marburg and the Fachgruppentagung Magnetresonanz in Karlsruhe, with some conferences being in parallel.
Some impressions can be found
here
.
NFDI4Chem RDM Workshop in Liverpool, UK
Research Data Management is not just a national effort. The lack of data publication is an issue researchers face from all around the globe. Therefore, it is important that we grow our international network, see different points of views so that the tools, solutions, and standards we develop apply and are accepted internationally.
In the spirit of international cooperation, NFDI4Chem held a 1-day online crash-course on research data management in Chemistry at the University of Liverpool (United Kingdom) in July. Here, we worked together with the local research data management representatives to create a bespoke workshop for Liverpool which would clearly highlight to the participants the local representatives, tools, resources, and regulations for research data management. The workshop was very well received by those who took part. For us it was also fascinating to gain a deeper insight into funder requirements with respect to research data management from a non-German perspective.
Upcoming Events
Workshop: FAIR Research Data Management - Basics for Chemists
This introductory workshop for Research Data Management (RDM) in chemistry is offered borth virtually as well as on premises for individual institutions. If you are interested in a workshop for your institution, please contact helpdesk@nfdi4chem.de. The online version takes place every two months for anyone who wishes to take part. The next workshop will take place on October 19 & 21 and is open for registration. Find out more and sign up! In 2023, we will also offer this workshop in a one-day format.
Chemotion ELN Hands-on Workshop
Interested in a Chemotion ELN Hands-on Workshop in which we will introduce the electronic laboratory notebook Chemotion and its features for beginners in an interactive way? We offer this workshop in an open format as well as for individual institutions. Members of our Chemotion team will explain the various features of the ELN in several modules combined with specific exercises in which you will create and edit ELN entries yourself.
Please request a workshop for your institution at
helpdesk@nfdi4chem.de
. Open virtual workshops will be announced soon.
Chemotion/NFDI4Chem "Stammtisch"
We are back from our summer break.
September 30
: News from the InChI (
Prof. Sonja Herres-Pawlis & Dr. Gerd Blanke
)
October 28
: Chemistry features FAIR4Chem Awards 2022 (
FAIR4Chem Awardees
)
November 25
: LISTER: Semi-automatic metadata extraction from annotated experiment documentation in eLabFTW (
Prof. Holger Gohlke
)
Don't miss any upcoming Stammtisch (at 14.00 CEST) and sign up now! In the meantime, you can find recordings
of previous presentations on our website!
Chemotion ELN Q&A Session
Every other Thursday at 15.00 CEST members of our Chemotion team give a general introduction to and answer questions on Chemotion virtually via Zoom. During registration you can indicate which topics should be covered.
Don't miss the next opportunity to ask your questions on October 6! Hurry up and
register
now!
Interested in Research Data Management?
Find webinars, trainings and some talks in our YouTube channel or follow us on Twitter.
Contact: Prof. Christoph Steinbeck

Email: contact@nfdi4chem.de
Phone: +493641948171
Website: https://nfdi4chem.de
Friedrich Schiller University Jena
IAAC
Lessingstr. 8
07743 Jena
NFDI4Chem is supported by DFG under project number 441958208