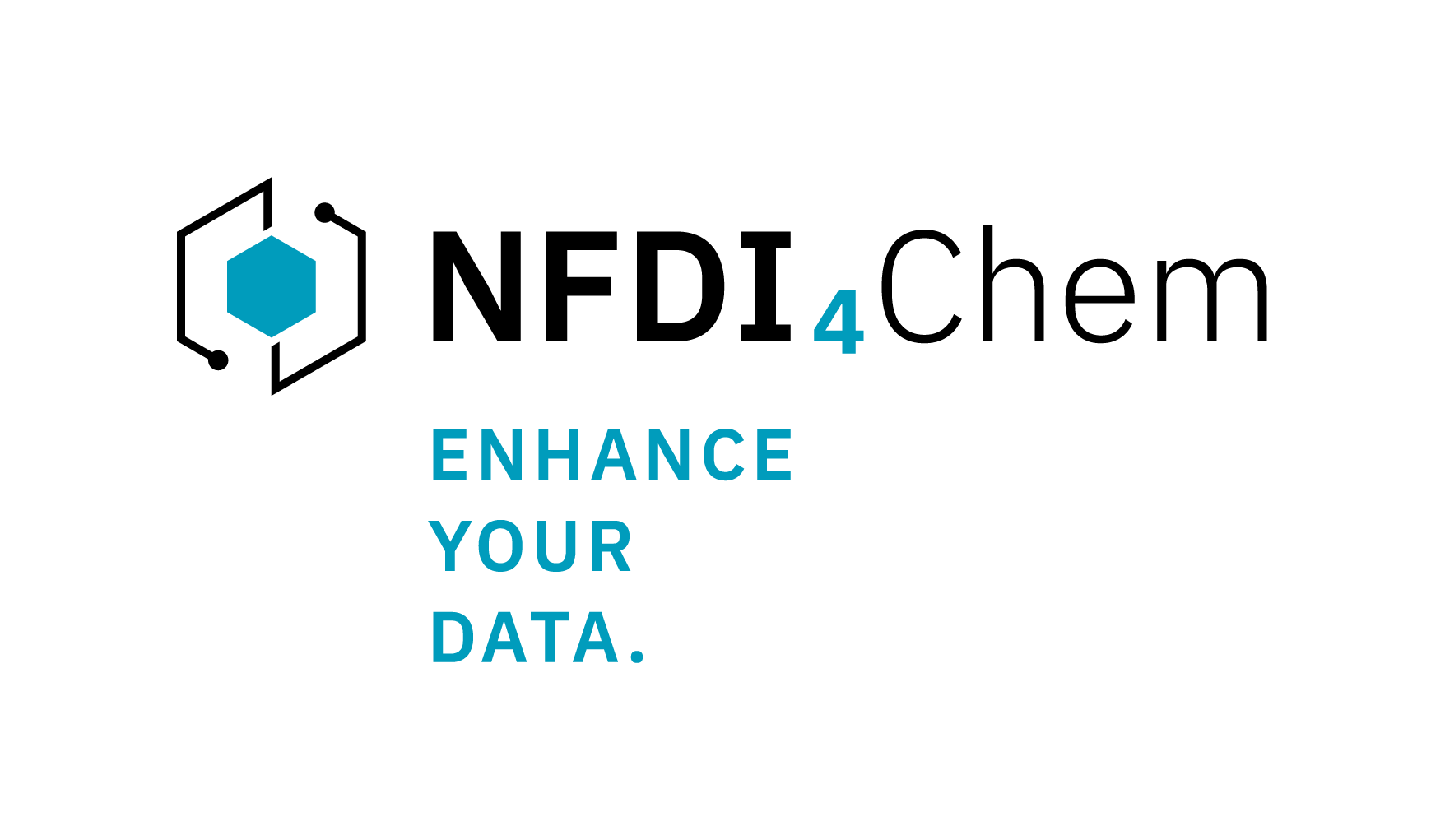 Welcome
Dear Reader,
With our sixth NFDI4Chem Newsletter, we would like to report on our recently launched and upcoming RDM and Chemotion workshops, the RADAR4Chem repository service, the award ceremony of the FAIR4Chem award 2022 and the ongoing lead-by-example data pledge. In this issue, you can also read about recently published Chemotion introduction videos and guidelines for sharing in Chemotion. Moreover, we continue presenting our task area leads, recent and upcoming events, and much more.
Let us know if you are interested in additional topics that we should cover. We are happy to hear from you
!
Enjoy the read and
stay healthy!
Your NFDI4Chem Team
Get to know the consortium!
In our sixth newsletter we continue to introduce the leads of our six task areas (TA). Meet Sonja Herres-Pawlis and Johannes Liermann, leads of TA 5 - Community Involvement and Training!
Sonja Herres-Pawlis has held the Chair of Bioinorganic Chemistry at RWTH Aachen University since 2015. She studied chemistry at Paderborn, Germany, and Montpellier, France. After her PhD thesis (Paderborn 2005) and Postdoc (Stanford University) in bioinorganic chemistry, habilitation on sustainable polymerization catalysts at TU Dortmund, she worked as associate professor for coordination chemistry at LMU Munich.
Johannes Liermann studied chemistry at the universities of Mainz and Hamburg and completed a doctoral thesis on the structure elucidation of fungal metabolites under the supervision of Till Opatz. Since 2011, he has been head of the routine NMR spectroscopy lab at the Department of Chemistry of Johannes Gutenberg University Mainz. Johannes has also been an elected board member of the GDCh Magnetic Resonance group since 2017.
New Research Data Repositories for Chemistry and Cultural Heritage
Researchers in the fields of chemistry and cultural studies now have access to new services for publishing research data. These are based on the established RADAR repository from FIZ Karlsruhe - Leibniz Institute for Information Infrastructure.
As part of its collaboration in NFDI4Chem, FIZ Karlsruhe now offers "RADAR4Chem", a powerful service for researchers in the field of chemistry to easily publish their research data. RADAR4Chem complements the existing portfolio of subject repositories in chemistry and can be used by researchers free of charge and regardless of their institutional affiliation. It enables the publication of any data type and format, thereby offering various application scenarios. Another new repository called RADAR4Culture similarly addresses the cultural sciences and humanities.
FAIR4Chem Award 2022: And the Winner is ...
Chemistry!
The FAIR4Chem Award 2022 celebrates published chemistry research datasets that best meet the FAIR principles and thus make a significant contribution to increasing transparency in research and the reuse of scientific knowledge.
The contest was open for submission from October 15 to December 15, 2021. The winners were selected in a two-stage process, using the criteria of the
FAIR assessment tool
developed by the Australian Research Data Commons infrastructure followed by a joint jury evaluation of the top-scoring submissions.
The FAIR4Chem Award 2022 honors the datasets of:
Congratulations to the winners!
Lead-by-Example: Pledge Your Dataset!
NFDI4Chem has a clear vision of how chemistry research data will be collected, processed, archived, shared and published. The development of standards for metadata, minimum information, analytical data formats as well as publication standards includes sample datasets in a standard-compliant manner.
Hence, we will work with the community (you!) to collect research data associated with recent or even upcoming manuscripts to gather, organise, and publish your datasets for and with you. We aim to provide a large body of real datasets to document the process of evolving FAIRness of chemistry research data, to surface practical issues and to suggest improvements to be fed back to other projects within NFDI4Chem.
Please feel invited to pledge your dataset to our
survey form
. We can provide support via a consulting service or more intense data stewardship to assist in publishing your research data! We will approach you for the details and to see where we can help with the preparation. A suitable repository will also be suggested.
You are also welcome to approach us with (yet) unpublished work, as this adds the opportunity to reference your dataset via DOI in the
data availability statement
of your forthcoming manuscript. We guarantee to treat unpublished work as highly confidential, with only the individuals working with you having access to the data.
Pledged and published publication-dataset-pairs are highlighted in the NFDI4Chem Knowledge Base to showcase your chemistry research data at work!

Workshop Series: FAIR Research Data Management - Basics for Chemists
It is only March and we have already held our introductory workshop for Research Data Management (RDM) in chemistry four times!
Three of which were institute-specific workshops where we worked closely together with local RDM-representatives to ensure the participants can benefit from all of their local offers. If you are interested in a workshop for your institution, please contact helpdesk@nfdi4chem.de. We will also be carrying out the workshop online every two months for anyone who wishes to take part. The next workshops open for registration will take place on April 20 & 22 and June 22 & 24. Find out more and sign up here.
In this two day course you will learn the following RDM basics:
| | |
| --- | --- |
| | FAIR, data life cycle, policies and more |
| Data Quality & Documentation | Metadata, standards, controlled vocabulary, InChI, SMILES, naming conventions and more |
| | General information, overview, Open Source examples: Chemotion & eLabFTW |
| | Storage, backup, archiving |
| | Repositories, example: chemotion, find the right repository for you) |
| | Copyright, data protection |
| | General information, create a DMP |
Chemotion ELN Hands-on Workshop
Getting started with something new has the best chance by following a simple strategy: learning by doing. Based on this concept, we have created a new workshop in which we introduce the electronic laboratory notebook Chemotion and its features for beginners in an interactive way. The various features of the ELN are explained in several modules by members of our Chemotion team combined with specific exercises in which you will create and edit ELN entries hands-on. During the exercises, you have the opportunity to directly ask questions and discuss arising problems with the Chemotion trainers.
On Friday, July 8, from 09.00 to 15.00 CEST we will offer the first open Chemotion ELN Hands-on Workshop virtually via Zoom. Interested in participating? Then don't miss your chance and sign up now! During registration you will be asked a few questions about your research field and the way you structure your lab notebook entries in general so that we can tailor the workshop to the needs of the participants.

Chemotion ELN Instruction Videos Published on Zenodo
To help newcomers getting started on using the electronic laboratory notebook Chemotion, we have created a series of instruction videos. These videos introduce Chemotion in general and explain its basic functions in a simple and understandable way. The videos cover important topics from creating molecules, over analyzing data, to sharing ELN entries.
The videos, currently only available in German, were published in March 2022 in the open-access repository Zenodo. The Zenodo dataset will be updated regularly by adding upcoming videos dealing with further features of the ELN. Additionally, a separate Zenodo entry with instruction videos in English will follow soon.
Interested? Download and watch the instruction videos
here
.
Guidelines for Sharing in Chemotion - now Available as Preprint
Sharing of data with the scientific community plays an important role in conducting FAIR and sustainable research. As an example, reporting experimental results (also negative ones) in a systematic, machine-readable way will enable automated data curation and machine learning processes in near future.
On the smallest scale, experimental data are shared within laboratories, working groups, or institutions. The electronic laboratory notebook Chemotion provides a sharing feature which allows to share data easily with others on various hierarchy levels and furthermore offers the possibility to generate joint databases for almost every desirable need.
In this publication, already available as a preprint, we explain the sharing feature of Chemotion and propose a sharing policy as a best practice model to have a consistent and easily applicable guideline for all scientists in a laboratory, working group, or institution. These guidelines may serve as a foundation and recommendation for other scientists who like to use the ELN Chemotion and its sharing feature.
Interested? Read the full guidelines
here
.
New Guidelines on Research Data Management by DFG
A key component of quality-oriented research is that the research data of a research project is handled in a way that is appropriate to the subject-specific discipline. The Deutsche Forschungsgemeinschaft (DFG, German Research Foundation) has now specified its requirements for the handling of research data in proposals for individual and collaborative projects and has made it mandatory to include details.
NFDI4Chem Global Women´s Breakfast
On February 16, NFDI4Chem organised a virtual global women´s breakfast (GWB) as part of the IUPAC GWB event. Short impulse talks from Nicole Jung (KIT), Sonja Herres-Pawlis (RWTH) and Nikki Parks (RWTH) initiated a lively discussion about research data management in chemistry, the relation to machine learning, the advantages of electronic lab notebooks and the striking difficulties women, men and families still encounter in academia.
ACS Spring Meeting
NFDI4Chem spread the word internationally at the ACS Spring Meeting 2022 in San Diego, USA. People from our team presented no less than four contributions during the meeting at the end of March: Ulrich Schatzschneider (UNITED: A universal digital molecular indicator and descriptor for all domains of chemistry), Jochen Ortmeyer (The NFDI4Chem Ecosystem: Shaping cultural and digital change in chemistry), Oliver Koepler (Ontologies4Chem: A use case to build a NMR research data knowledge graph) and Hans-Georg Weinig (Community involvement within the German NFDI4Chem consortium towards digitalisation of all key steps in chemical reserach).
NFDI4Chem at the Chemiedozententagung in Saarbrücken
The conference team of NFDI4Chem presented a booth at the Chemiedozententagung with Chemotion live demo
. Moreover, in the NFDI4Chem lecture, Sonja Herres-Pawlis informed the audience about the latest developments in research data management in chemistry. The slides can be found here.
Upcoming Events
GCC 2022 / EuroSAMPL
The division "Computers in Chemistry" (CIC) of the German Chemical Society (Gesellschaft Deutscher Chemiker e.V.) cordially invites you to the
17th German Conference on Cheminformatics (May 8-10, 2022) and EuroSAMPL Satellite Workshop (May 11-12, 2022) in Garmisch-Partenkirchen, Germany.
While the GCC reflects and highlights the important role of cheminformatics, which connects the modern information and data-driven world with computational modeling of molecular systems, the EuroSAMPL satellite workshop continues the series of events fostering discussions between participants and contributors to the SAMPL challenges (Statistical Assessment of the Modeling of Proteins and Ligands).
These were established in 2008 as community-wide blind challenges aimed at advancing computational techniques in rational drug design, covering problems ranging from host-guest and protein-ligand complexes to small molecule physicochemical properties. EuroSAMPL will encompass lectures, contributions, and posters from participants during the recent SAMPL challenges, covering also aspects of industry-academia data exchange and NFDI-relevant topics.
Chemotion/NFDI4Chem "Stammtisch"
Don't miss the next parts of the Stammtisch (at 14.00 CEST) and sign up now!
April 29: Sciformation ELN & Sciflection (Dr. Felix Rudolphi & Dr. Marco Dyga)
May 20: Cheminfo (Kevin Jablonka)
June 24: BIGSmiles (Prof. Bradley Olsen)
In the meantime, you can find recordings of the last presentations on our website. These presentations serve as an introduction for the main, unrecorded part of the "Stammtisch": the open and wide discussion, in which you can comment and contribute!
Chemotion ELN Q&A Session
During the Chemotion ELN Q&A Session, members of our Chemotion team will give general introductions and answer questions on Chemotion virtually via Zoom - every

other

Thursday at 15.00 CEST!
During registration you can indicate which topics should be covered. Don't miss this opportunity to ask your questions! The next Q&A Session is scheduled for April 7.
Interested in Research Data Management?
Find webinars, trainings and some talks in our YouTube channel or follow us on Twitter.
Contact: Prof. Christoph Steinbeck

Email: contact@nfdi4chem.de
Phone: +493641948171
Website: https://nfdi4chem.de
Friedrich Schiller University Jena
IAAC
Lessingstr. 8
07743 Jena
NFDI4Chem is supported by DFG under project number 441958208