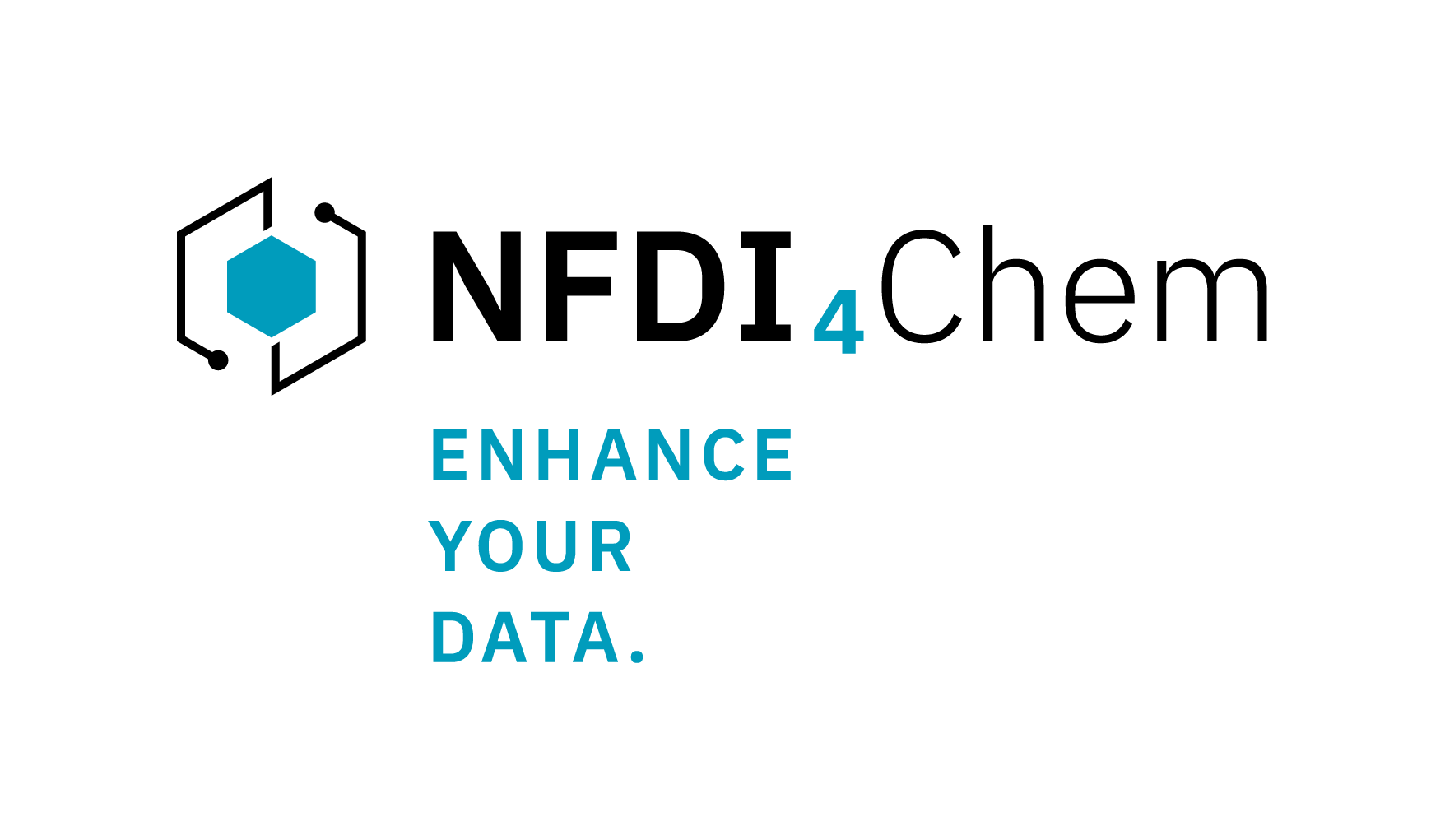 Welcome
Dear Reader,
With this NFDI4Chem Newsletter, we are already celebrating our tenth issue! This time, we would like to report on this year's FAIR4Chem Award, our currently running survey, the recently published author guideline landscape as well as latest developments within the InChI Trust. Furthermore, you can read about RADAR4Chem, our refreshed workshop strategy, recent and upcoming events, and much more.

Let us know if you are interested in additional topics that we should cover. We are happy to

hear from you
!
Enjoy the read and stay healthy!
FAIR4Chem Award 2023
For the second time, we were in the fortunate position of being able to award best practice in the use of FAIR data. To promote a culture change towards publishing FAIR data, good examples are invaluable to showcase what is already possible today!

With the FAIR4Chem Award, we therefore honour researchers who conduct research at the highest level and at the same time store one's data FAIR and thus make it available to the entire community.
The awards were presented on March 23 at the Spring Symposium of the GDCh JungChemikerForum in Gießen, where

Prof. Daumann and Selina Itzigehl (on behalf of Prof. Bruckner)

also gave a short talk on the research underlying the dataset.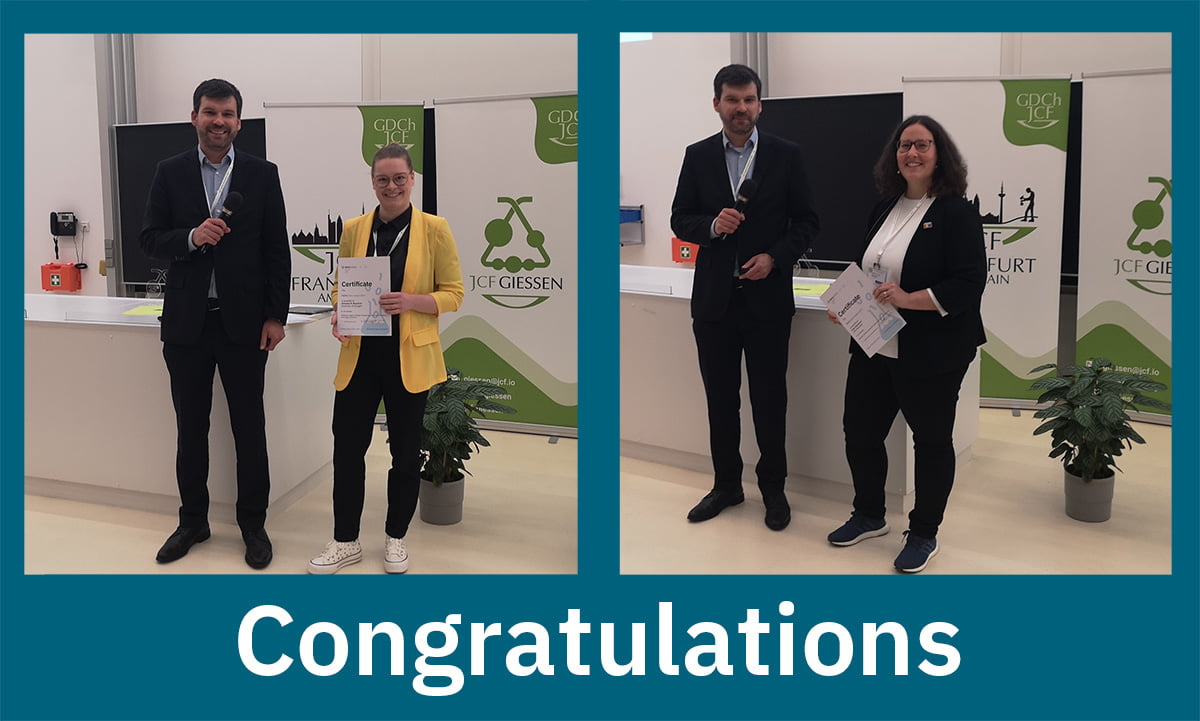 Chemistry Data Survey
2nd NFDI4Chem questionnaire still open!
One of the most important parts of our work is the collection of the community's requirements for handling their chemical data. Therefore, we kindly ask you to participate in our questionnaire which shouldn't take any longer than 15 minutes. For each participant who completes the entire survey, we will donate one euro to SOS-Kinderdörfer e.V. You can contribute until April 15!
More information can be found here.
Author Guideline Landscape
As the primary method of communicating research results, journals have an enormous impact on data sharing practices in the scientific community. Ideally, journals and their publishers place recommendations or even requirements into their author guidelines and data policies.

As part of the activities around our Editors4Chem workshop series, Nicole Parks, Tillmann Fischer, and Claudia Blankenburg waded twice through the author guidelines and data policies of 42 journals in chemistry, released by 13 publishers, checking the requirements and recommendations in several categories regarding research data publication, open science practices, and machine-readable chemistry.
New Board Member of the InChI Trust

Strengthening the InChI for integration of molecular inorganic chemistry.

The IUPAC International Chemical Identifier (InChI) is a non-proprietary identifier for chemical substances that enables easier linking of different data collections. The InChI Trust makes it possible to continue further development and maintenance of the InChI standard.
Due to the intensive involvement in the development of the new InChI version especially in the field of inorganic chemistry (funded by the VolkswagenStiftung), Sonja Herres-Pawlis has now been appointed to the Board of Directors of the InChI Trust. For the next steps, an InChI workshop on inorganic stereochemistry will be organised in Aachen on May 10 & 11, 2023.

News from RADAR4Chem
In the December 2022 software release, the FAIRness of RADAR4Chem was further optimised.
On the one hand, the RADAR metadata schema was updated and thus the possibilities of metadata annotation were further developed. In addition to standards data for individuals (ORCID) and funding organisations (Crossref Funder Registry), the new metadata schema v.9.1 now also supports standards data for organisations (ROR) as well as the Integrated Authority File (Gemeinsame Normdatei, GND). Furthermore, controlled vocabularies were further expanded (e.g. additional licence types as well as further relations for related resources) and pending adaptations to the current DataCite metadata schema were made.
On the other hand, the source code of RADAR landing pages were enriched with typed links in accordance with the signposting approach. This implemented an important part of the Fair Digital Object (FDO) framework, which aims to improve the interoperability and machine readability/actionability of scientific objects on data repositories, publishing platforms, etc. in a uniform and low-threshold manner.
More information on the software release (v1.15) can be found here.
Besides, RADAR4Chem is now also listed in re3data, the global registry for research data repositories.
Best Practice Using RADAR4Chem
Data on collaboration with chemical engineers deposited in RADAR4Chem.
In their
study
on the model-based analysis of the synthesis of bioplastics, Herres-Pawlis and Jupke et al. lay the foundation for faster catalyst design, targeting the needs of industry in developing fast and nontoxic alternatives for the industrially used toxic ROP catalyst Sn octanoate, bridging the gap between academia and industry. The data have been deposited at RADAR4Chem [
https://dx.doi.org/10.22000/579
and
https://dx.doi.org/10.22000/808
]. This shows that RADAR4Chem is a user-friendly repository where data from all branches of chemistry and of collaborations can be deposited.
Refreshed Workshop Concept
Specific NFDI4Chem workshops available to serve the needs of the community.

From now on, we offer the workshop "Chemical Research Data Management in a Nutshell". Every other month, the virtual 1-day workshop gives participants an overview on the basics of research data management (RDM) in a chemical context. More information and the registration for the next workshop which is scheduled for May 9 can be found
here
.
Our well-established 2-day workshop "FAIR Research Data Management - Basics for Chemists" is still available for individual institutions. This introductory workshop for RDM in chemistry can be offered both virtually as well as in-person. If you are interested in a workshop for your institution, please contact
helpdesk@nfdi4chem.de
.
In addition, the "Chemotion ELN Hands-on Workshop" introduces the electronic laboratory notebook Chemotion and its features for beginners in an interactive way. We offer this workshop in an open online-format as well as for individual institutions. Members of our Chemotion team will explain the various features of the ELN in several modules combined with specific exercises in which you will create and edit ELN entries yourself. Please request a workshop for your institution at
helpdesk@nfdi4chem.de
. The next virtual workshop will be announced soon.
Stay tuned
!
Furthermore, are you interested in NFDI4Chem giving an introductory talk at your institution, in-person or virtually? Contact
helpdesk@nfdi4chem.de
to book a talk. In this 45 minute talk, we give an introduction on the NFDI and NFDI4Chem, why RDM is important and the free tools, services and training opportunities NFDI4Chem offers that researchers can benefit
today
to supplement their RDM.
Don't miss these great opportunities and benefit from our offers!
Chemotion Videos now Available in English
Tutorial on electronic lab notebook for syntheses.
For the use of Chemotion and to explain its basic functions, we created explanatory videos to help newcomers getting started with the ELN. These videos cover important topics from creating molecules, to evaluating analytic data, to sharing entries. The videos are divided into different topic blocks and deal in each case with specific functions.
The videos can also be viewed directly on
YouTube
.
NFDI4Chem Retreat near Dresden
From March 12 to 14, the task area leads and their project managers gathered in a Landhotel near Dresden.
The agenda of the meeting featured the planning of the upcoming consortia meetings and the Chemistry Data Days (see below), the DFG progress report & NFDI structural evaluation, financial developments and communication processes. Furthermore, all participants had lively discussions on future actions for the time after the DFG-financed period in 2025.
NFDI4Chem Conference Train
Active for the community.
The conference train continues its journey in 2023. Like last year, the NFDI4Chem-Team visited numerous conferences to present booths and/or posters, held workshops and network to inform the community about current progress and what we can do for chemists.
Some of us have been at the Cambridge Cheminformatics Network Meetings, the Ontology Summit 2023, the Global Women's Breakfast (an IUPAC initiative), the RDA (Research Data Alliance) Deutschland Tagung 2023, the WorldFAIR IUPAC Webinar Series "What is a chemical", the DPhG DoktorandInnentagung 2023 in Bonn, the e-Science Tage 2023 in Heidelberg, the Chemiedozententagung 2023 & the DPG Frühjahrstagung (SMuK23) in Dresden, the JungChemikerForum-Frühjahrssymposium in Gießen, the RDA 20th Plenary Meeting in Göteborg, the 44. PPNMR-Tagung (Praktische Probleme der Kernresonanzspektroskopie) in Berlin, and the ACS Spring Meeting 2023 in Indianapolis.
The slides from the workshop on research data management at the Chemiedozententagung in Dresden can be found
here
.
Upcoming Events
Chemistry Data Days


Chemistry data and data-driven research are important today, and will have even more impact in the (near) future ! We cordially invite you to a two-day event at the University of Mainz in which we want to share some inspiration with you about what is already possible with chemistry data today.
Hear from Researchers about how they have harnessed their data but also learn about tools and infrastructure that are available now to help you structure your data for publication (e.g. Electronic Lab Notebooks and Repositories).
NFDI4C* Workshop on Synergy and Cooperation
On April 17 at 16:00 CET, a joint event with NFDI4Cat will take place virtually in the spirit of mutual exchange and to forge new collaborations. The workshop will start with a presentation by Prof. Dr. Pedro Mendes (the
RDA/EOSC ambassador for catalysis
) with the title "Unravelling the power of small data: tailored approaches for catalyst design". Afterwards, several topics will be discussed in different breakout sessions, such as ontologies and metadata, community and training, or ELNs and repositories. Save the date! More information and registration will be available shortly via our
website
!
Chemotion/NFDI4Chem "Stammtisch"
Don't miss any episode of our monthly Stammtisch (at 14:00 CET) and
sign up now
!
MolBar (
Nils van Staalduinen & Jun.-Prof. Christoph Bannwarth
)
LOGS-ELN – an ELN for spectroscopists with its own integrated SDMS (Scientific Data Management System)

(Dr. Jakob J. Lopez & Dr. Sina Kazemi

)
In the meantime, you can find recordings of previous presentations on our
website
!
Chemotion ELN Q&A Session
Every fourth Thursday at 15:00 CET members of our Chemotion team give a general introduction to and answer questions on Chemotion virtually via Zoom. During registration you can indicate which topics should be covered.
Don't miss the next opportunity to ask your questions on April 20.
Register now
!
Interested in Research Data Management?
Find webinars, trainings and some talks in our YouTube channel or follow us on Twitter.
Contact: Prof. Christoph Steinbeck

Email: contact@nfdi4chem.de
Phone: +493641948171
Website: https://nfdi4chem.de
Friedrich Schiller University Jena
IAAC
Lessingstr. 8
07743 Jena
NFDI4Chem is supported by DFG under project number 441958208