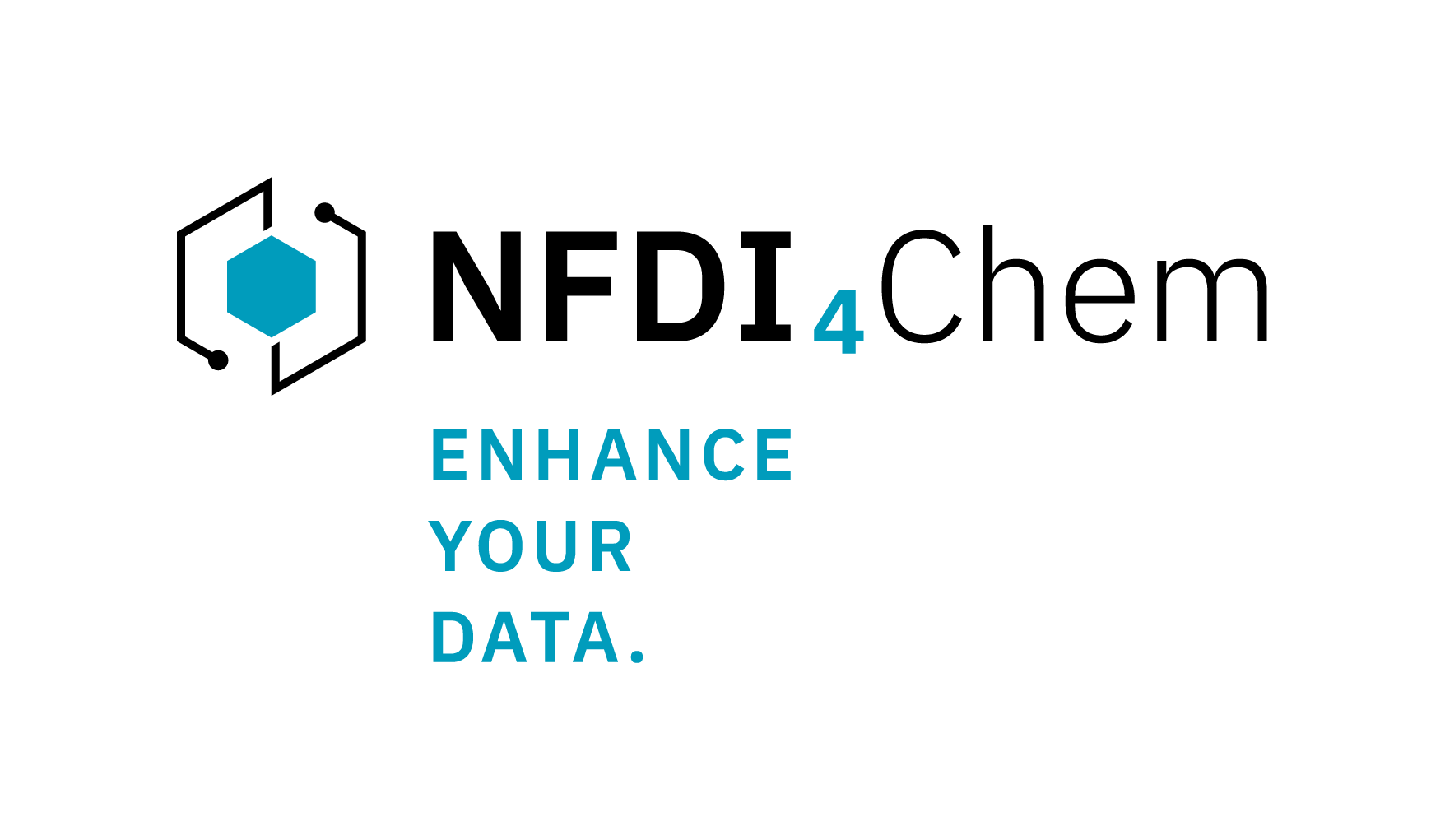 Welcome
Dear Reader,
With our ninth NFDI4Chem Newsletter, we would like to report on our 3rd Consortium Meeting, new members in our consortium and in our advisory boards as well as on recently launched and updated services. In this issue, you can also read about error cultures in science, recent and upcoming events, and much more.

Let us know if you are interested in additional topics that we should cover. We are happy to

hear from you
!
Enjoy the read and
stay healthy!
Merry Christmas and a good start into the year 2023!
Report on the 3rd Consortium Meeting
Members of NFDI4Chem met in Hanover on October 10 and 11, 2022.
After more than 700 very successful days of the project, NFDI4Chem held its third consortium meeting - for the first time in person. More than 70 members from all task areas of the consortium as well as national and international members of the advisory boards met at the Leibnizhaus in Hanover for their annual exchange on the project progress. While the first day gave a retrospective on the achievements of the last year with short reports from the six task areas, the second day was dedicated to next steps and measures of the consortium.
Find a detailed report
here
(in German).
New Participants NFDI4Chem
We are very pleased to welcome Prof. Jürgen Pleiss, Institute of Biochemistry and Technical Biochemistry at the University Stuttgart as new participant in the NFDI4Chem consortium.
Prof. Pleiss is a member of the committee "Research Data & Software Management" of the Cluster of Excellence "Data-integrated simulation science" (EXC 2075), PI of the INF project within CRC 1333 "Molecular heterogeneous catalysis in confined geometries", and developed the standardised data exchange format EnzymeML, which is the basis of an RDM infrastructure in enzymology and biocatalysis. Prof. Pleiss and his team will contribute namely to task areas 2, 4 and 5.
Changes in our Advisory Boards
This year we also had two changes in the composition of our advisory boards.
In October Prof. Ulrike Holzgrabe, Institute of Pharmacy & Food Chemistry, University of Würzburg and representive of the German Pharmaceutical Society has retired from our National community advisory board. We thank Prof. Holzgrabe very much for her time and support for NFDI4Chem. As her successor we welcome Prof. Stefan Laufer, Pharmaceutical Institute, Eberhard Karls University Tübingen, representing DPhG and the pharmaceutical community.

The second change was in the Industry advisory board. We warmly welcome Dr. Josef Eiblmaier from OSTHUS.
The addition of Dr. Eiblmaier strengthens the expertise in data standards and data management in R&D in the chemical industry.
Error Cultures in Science

At the NFDI4Chem Consortium Meeting 3.0, October in Hannover a panel discussion was held on cultural change and error culture.

This addresses an important fact: researchers are afraid of publishing their data "because others may discover mistakes in their data or research which in turn could detrimentally impact their career." This underlines the absence of a systematic approach to dealing with errors in academia. High Risk Organisations have already implemented an error culture, so they can easily find and fix problems, as Joachim Richert (BASF) said:
"The industry is working with errors. This is part of our quality management."
NFDI4Chem Search Service is Live
Next step taken towards a FAIR research data infrastructure in chemistry.
You are looking for datasets in the context of chemistry and are tired of searching countless repositories one by one? Then our new
NFDI4Chem Search Service
is exactly what you need!
The NFDI4Chem Search Service, developed and maintained by TIB - Leibniz Information Centre for Science and Technology, provides an overarching search in the various chemistry and chemistry-related repositories of the NFDI4Chem federation. For this purpose, the Search Service collects the metadata of currently more than 90,000 datasets from the linked repositories and thus offers a central entry point, e.g. to get an overview of all different spectra measured for certain molecular entities. You can filter data records by different criteria, such as source repository or measurement technique. The advanced search enables you to search for chemical identifiers, such as InChI, InChI Key, SMILES. Once found, the original datasets in the connected repositories can be easily accessed directly via the provided link.
NFDI4Chem Terminology Service Version 2.0 is Launched
Interested in ontologies in the field of chemistry or closely related disciplines? Then you should definitely take a closer look at our redesigned NFDI4Chem Terminology Service (TS) in its new version 2.0!
The NFDI4Chem TS is a repository for chemistry and chemistry-related ontologies and an essential part for semantic data annotation services. It acts as a single point of access to the latest ontology versions with comprehensive information about their scope, application, and curators. The redesigned web interface and API provides improved usability for both human users and other services or tools, which can embed the ontologies in their own workflows. From a technical perspective, the release of version 2.0 separated the EBI-OLS based backend from the newly developed frontend, which uses the React library. Newly implemented frontend features include an improved term search with autocomplete function, a redesigned tree view and a streamlined ontology list from which all important information and metrics are now directly visible. Ontologies of interest can easily be downloaded in both OWL and JSON formats with just one click. Planned upcoming future releases will extend the Terminology Service beyond the provision of ontologies, to also support curation workflows.
Data Pledge
NFDI4Chem has a clear vision of how to foster and simplify collection, processing, archiving, sharing, and publication of chemistry research data in a FAIR compliant way. We also aim to take leadership in chemistry research data management by providing best-practice example datasets

. These datasets build an important block in the development of standards for metadata, minimum information, analytical data formats, and publications.



Our Lead-by-Example collection aims to provide a large body of real datasets to document the process of evolving FAIRness of chemistry research data, to surface practical issues, and to suggest improvements feeding other projects within NFDI4Chem.
Submitted datasets and their corresponding scientific publications are presented in
NFDI4Chem Knowledge Base
in a recently updated fashion!
Please also feel invited by this newsletter to pledge your datasets to our
survey form
. We will also provide support via a consulting service to assist in publishing your research data! A suitable repository will also be suggested.
You are also welcome to pledge unpublished work, as this adds the opportunity to reference your dataset via DOI in the
data availability statement
of your manuscript. We guarantee to keep unpublished work as highly confidential, with the number of people provided access being highly limited and carefully regulated.
Call for Minimum Information Standards in Chemistry Published in Angewandte Chemie
Research data management (RDM) is needed to assist experimental advances and data collection in the chemical sciences.

Many funders require RDM because experiments are often paid for by taxpayers and the resulting data should be deposited sustainably for posterity. However, paper notebooks are still common in laboratories and research data is often stored in proprietary and/or dead-end file formats without experimental context. Data must mature beyond a mere supplement to a research paper. Electronic lab notebooks (ELN) and laboratory information management systems (LIMS) allow researchers to manage data better and they simplify research and publication. Thus, an agreement is needed on minimum information standards for data handling to support structured approaches to data reporting. As digitalization becomes part of curricular teaching, future generations of digitally native chemists will embrace RDM and ELN as an organic part of their research. Our call for minimum information standards in chemistry can be found
here
.
Data Literacy from the Beginning - Project DALIA just Started
With this paradigm, we emphasise the importance of education in data literacy (data usage, data supply) and show the way to sustainability in the use and supply of research data.
The new BMBF project DALIA is making a notable contribution to the implementation of the paradigm by developing a platform for teaching and learning materials as a knowledge base "FAIR data usage and supply". This is implemented in a modern way, in line with NFDI and the FAIR concept, as a semantic linked knowledge graph. TU Darmstadt and RWTH Aachen University lead this project in collaboration with Akademie der Wissenschaften und der Literatur Mainz, Universitätsmedizin Göttingen and TIB Hannover. Intensive collaboration with the NFDI section EduTrain is implemented.
More information can be found
here
(in German).
Reaching out!
NFDI4Chem has been busy in the latter half of the year visiting many events such as conferences. Here, important connections for NFDI4Chem with key organisations were established.
Most importantly, it enabled us to reach out and connect with the academic community to provide information on NFDI4Chem, its offers and services as well as listening to the requirements and suggestions of the researchers. For many this was the first contact with NFDI4Chem. Following the plethora of conferences visited in September, we received multiple requests for introductory talks on NFDI4Chem and we have been giving these steadily since! In this 45 minute talk, we give an introduction on the NFDI and NFDI4Chem, why RDM is important and the free tools, services and training opportunities NFDI4Chem offers that researchers can benefit
today
to supplement their research data management. We always like to leave a little more room for questions as this is a complex issue commonly associated with many misunderstandings and reservations. Are you interested in NFDI4Chem giving an introductory talk at your institution? Contact
helpdesk@nfdi4chem.de
to book a talk.
In December the first BioHackathon Germany was organised by the team of the German ELIXIR node. Leyla Jael Garcia-Castro (ZBMed and NFDI4Microbiota) and Steffen Neumann (IPB Halle and NFDI4Chem) used the opportunity and successfully submitted a proposal on (Bio)Schemas4NFDI.
Bioschemas is a community effort to improve FAIRness of resources in the Life sciences by defining specific metadata schemas as JSON+LD and exposing that metadata from participating resources. The name Bioschemas is a bit misleading, since from the early days the metadata schemas also covered concepts from chemistry or even information about training material and events.
Aim of the workshop was to bring together metadata experts from Bioschemas and several NFDI consortia to adopt and adapt Bioschemas to NFDI use cases. We had participants from, e.g., NFDI4DataScience, GHGA, NFDI4Microbiota, and seven participants from NFDI4Chem.
NFDI4Chem at NFDI Info Event at Leibniz Universität Hannover
On November 2, NFDI@LUH, the first information event about NFDI at Leibniz Universität Hannover (LUH), took place.
In addition to five other consortia, TIB presented NFDI4Chem and the services for Chemistry. The poster exhibition was an excellent opportunity to discuss with resident researchers, students and representatives of LUH institutes.
More information is available
here
(in German).
NFDI4Chem at Tag der Forschungsdaten Event Hosted by RWTH Aachen University
On November 15, RWTH Aachen University hosted an information and networking event "RDM Compass – the RWTH ship on NFDI course" as part of the Tag der Forschungsdaten (Research Data Day) in NRW.

In the session "Metadata, Ontologies and Standards", we presented our findings on the requirements of journal guidelines and in the session "Training and Awareness", we emphasised our broad approach to promote data literacy which addresses researchers at all career stages and at all levels of research data management (RDM).
Upcoming Events
NFDI Physical Sciences Joint Colloquium
The NFDI Physical Sciences Joint colloquium is a talk series organised by consortia within the NFDI representing the physical sciences (DAPHNE4NFDI, FAIRmat, MaRDI, NFDIMatWerk, NFDI4Chem, NFDI4Cat & PUNCH4NFDI) where pioneering scientists are invited to showcase how they have worked in a FAIR and/or open way to an interdisciplinary audience. We are excited to invite you to join us on January 9, 2023 at 16:00 CET for a talk by Susanna-Assunte Sansone (Oxford) - one of the authors of the FAIR principles - on "FAIR data: no longer optional, but it takes a village". To join the talk and find out more (abstract etc.) visit the event page.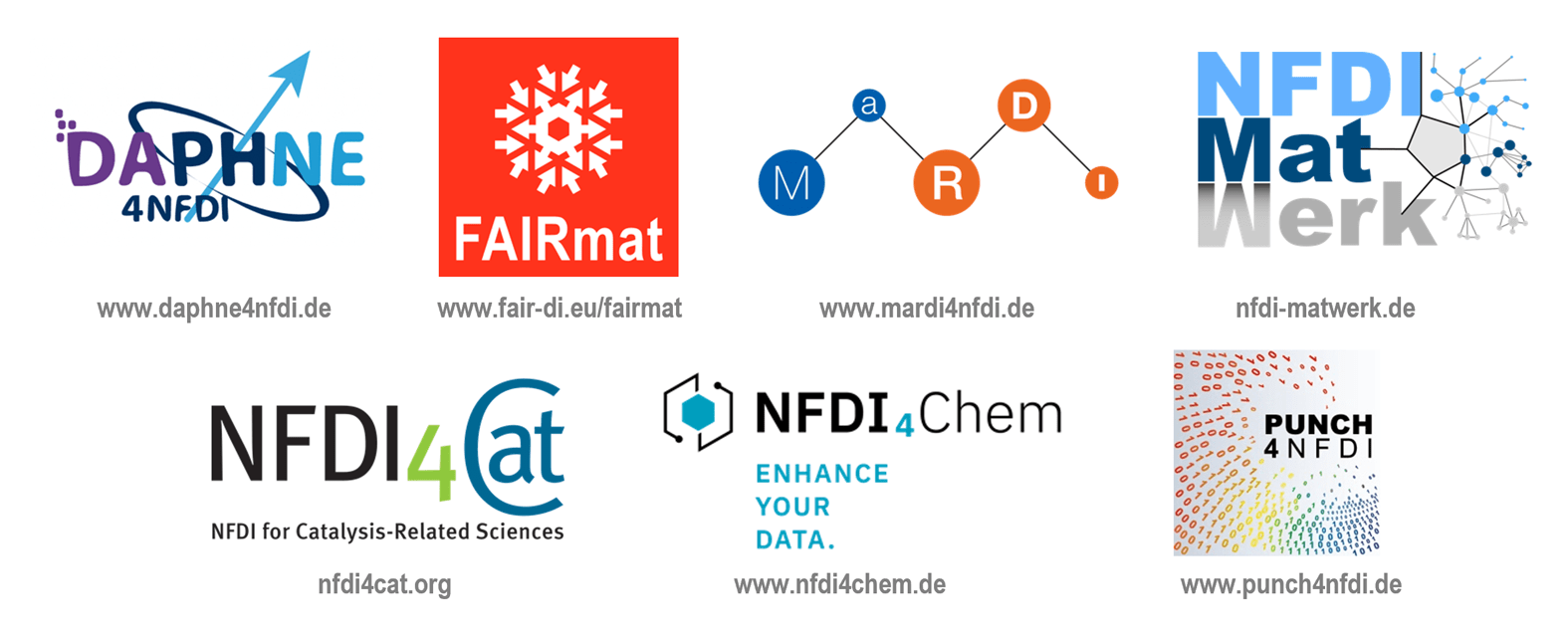 Workshop: FAIR Research Data Management - Basics for Chemists
This introductory workshop for Research Data Management (RDM) in chemistry is offered both virtually as well as on premises for individual institutions. If you are interested in a workshop for your institution, please contact helpdesk@nfdi4chem.de. The online version takes place every two months for anyone who wishes to take part - alternating in a one- or two-day format in 2023. The dates of the workshops in 2023 will be announced soon. Find out more and sign up!
Chemotion ELN Hands-on Workshop
Interested in a Chemotion ELN Hands-on Workshop in which we will introduce the electronic laboratory notebook Chemotion and its features for beginners in an interactive way? We offer this workshop in an open format as well as for individual institutions. Members of our Chemotion team will explain the various features of the ELN in several modules combined with specific exercises in which you will create and edit ELN entries yourself. Please request a workshop for your institution at helpdesk@nfdi4chem.de. The next open virtual workshop will take place on January 23, 2023. Find out more and sign up!
Chemotion/NFDI4Chem "Stammtisch"
After a short winter break, we will be back with our monthly Stammtisch in January 2023.
DALIA: Knowledge Graph for FAIR Data Usage and Provision (
Prof. Sonja Herres-Pawlis
)
Generic Elements in Chemotion (
Fabian Fink
)
Don't miss any upcoming Stammtisch (at 14:00 CET) and sign up now! In the meantime, you can find recordings
of previous presentations on our website!
Chemotion ELN Q&A Session
Every other Thursday at 15:00 CET members of our Chemotion team give a general introduction to and answer questions on Chemotion virtually via Zoom. During registration you can indicate which topics should be covered.
Don't miss the next opportunity to ask your questions after a short winter break on February 9, 2023.
Register now
!
Interested in Research Data Management?
Find webinars, trainings and some talks in our YouTube channel or follow us on Twitter.
Contact: Prof. Christoph Steinbeck

Email: contact@nfdi4chem.de
Phone: +493641948171
Website: https://nfdi4chem.de
Friedrich Schiller University Jena
IAAC
Lessingstr. 8
07743 Jena
NFDI4Chem is supported by DFG under project number 441958208