NFDI4Chem is actively involved in several of the recently founded sections of NFDI which tackle overarching tasks across the NFDI consortia.
NFDI4Chem and NFDI4Ing jointly coordinate the work in the section Education & Training (EduTrain). The concept for the section has already been published on Zenodo. EduTrain focuses on the development of multidimensional teaching materials for all levels in teaching and research (see image below). Data competence right from the beginning ensures good scientific practice and also contributes to sustainable solutions for urgent questions in today's world. The section is currently collecting more input from all interested contributors for its revised concept 2.0. If you would like to contribute, please contact Sonja Herres-Pawlis (NFDI4Chem) or Peter Pelz (NFDI4Ing). If you are interested in news about the section, please subscribe to the mailing list.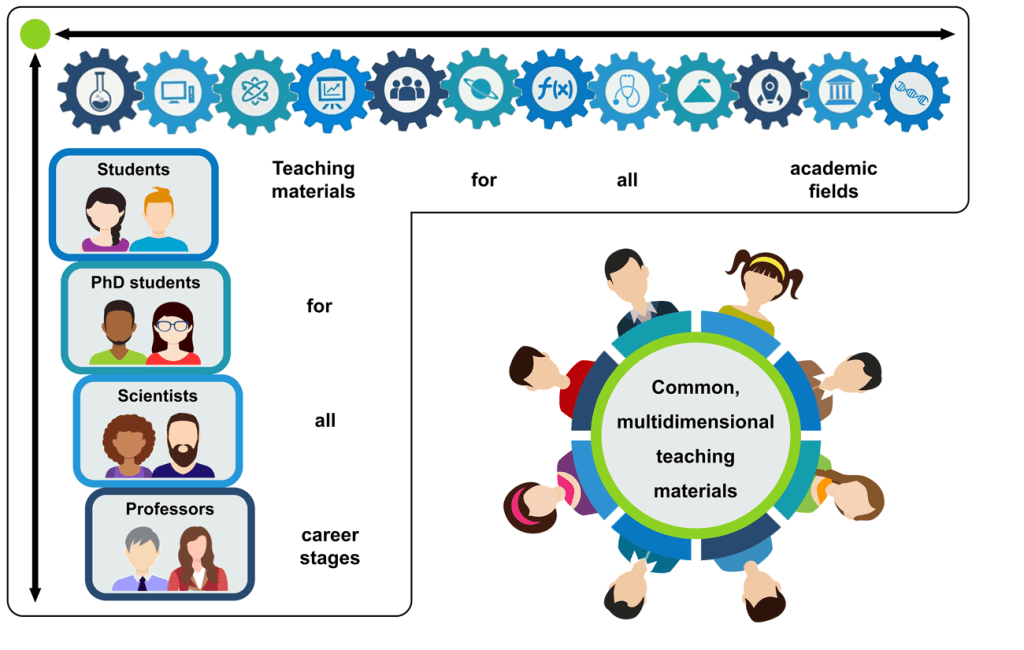 Furthermore, NFDI4Chem and NFDI4Culture coordinate the section (Meta)data, Terminologies, Provenance. This section's tasks include organizational aspects of collaboration or knowledge transfer, content aspects such as modeling of ontologies, and infrastructural perspectives (development of standards/core services) on the topics of metadata, terminologies, and provenance. One of the main tasks of the section will involve ensuring the mutual visibility, harmonization, and reusability of the work of NFDI consortia in these areas. The section concept has been published on zenodo.
If you are interested in news about the section, please subscribe to the mailing list. Additionally, you can contact the coordinators Oliver Koepler (NFDI4Chem) or Torsten Schrade (NFDI4Culture) by email.