FAIR4Chem Award
Der FAIRste Datensatz der Chemie!

Mit dem FAIR4Chem Award würdigen wir Forschende der Chemie, die ihre Forschungsdaten veröffentlichen. Der Preis wird für publizierte Datensätze aus der chemischen Forschung vergeben, die in hervorragender Art und Weise die FAIR-Prinzipien (auffindbar, zugänglich, interoperabel und wiederverwendbar) erfüllen und damit einen wesentlichen Beitrag zur Erhöhung der Transparenz in der Forschung und der Nachnutzung wissenschaftlicher Erkenntnisse leisten. Die NFDI4Chem prämiert den FAIRsten Datensatz mit einem Preisgeld von 500 €, das vom Fonds der Chemischen Industrie (FCI) zur Verfügung gestellt wird. Die Preisübergabe erfolgt im Rahmen des JCF-Frühjahrssymposiums.
Zur Bewertung der eingereichten Datensätze
Die Datensätze werden im ersten Schritt mithilfe publizierter und frei zugänglicher FAIR Assessment Tools evaluiert. Anschließend werden die besten Datensätze durch eine Jury bewertet, um den zu prämierenden Datensatz zu ermitteln.
Zur Teilnahme
Der Wettbewerb richtet sich an alle Wissenschaftlerinnen und Wissenschaftler der chemischen Forschung, die an einer Hochschule oder außeruniversitären Forschungseinrichtung mit Sitz in der Bundesrepublik Deutschland tätig sind.
Der Bewerbungszeitraum für 2023 ist abgelaufen. Für das Jahr 2024 können Sie sich ab etwa September 2023 bewerben.
Weitere Beiträge
---
FAIR4Chem Award: The FAIRest dataset in chemistry!
The FAIR4Chem Award honours researchers in chemistry who publish their research data. The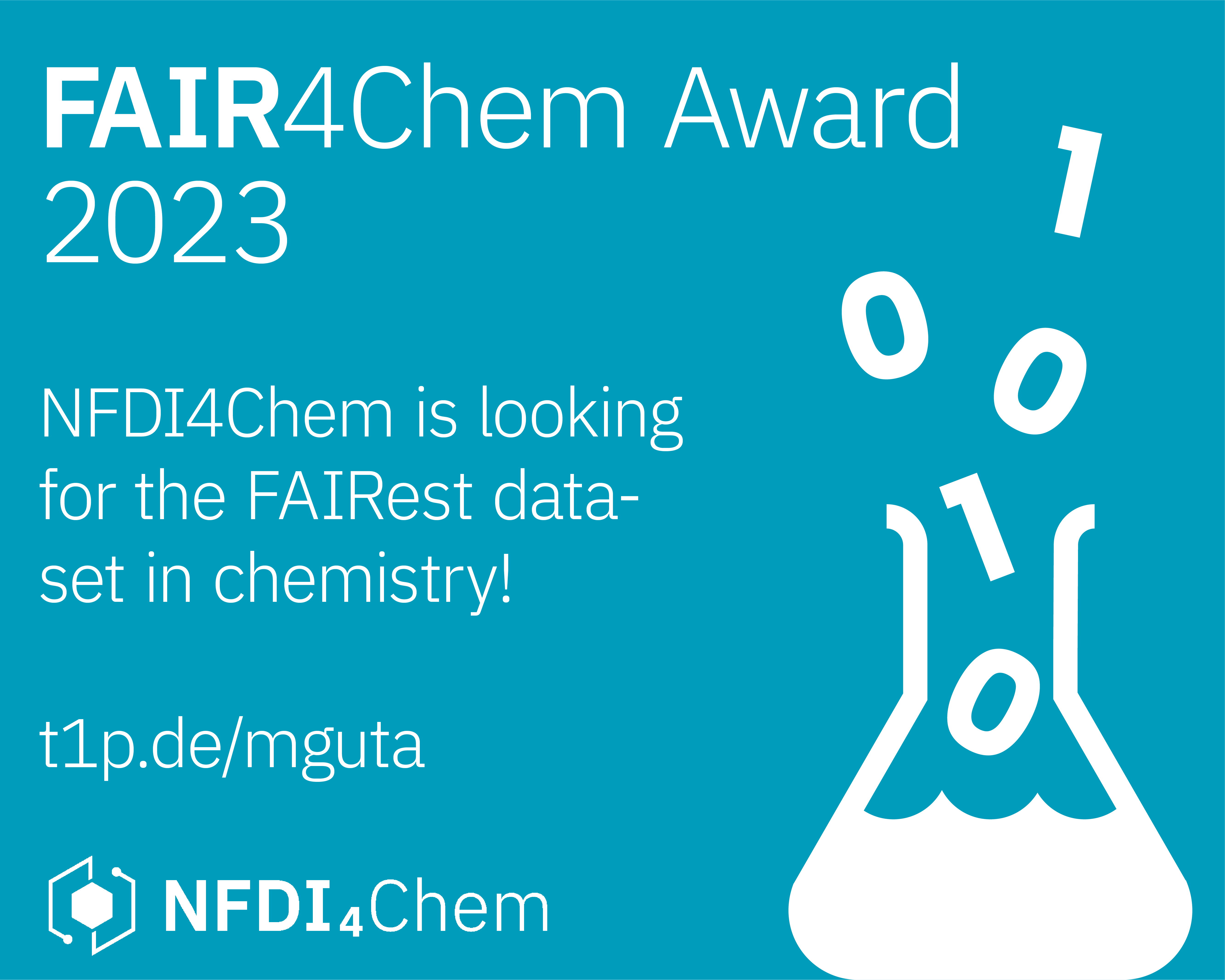 award is given for published chemistry research datasets that best meet the FAIR principles (findable, accessible, interoperable, and reusable) and thus make a significant contribution to increasing transparency in research and the reuse of scientific knowledge. NFDI4Chem will award the FAIRest dataset with a prize money of 500 €, supported by the Fonds der Chemischen Industrie (FCI). The award will be presented during the JCF Frühjahrssymposium.
About evaluation of the submitted datasets
In the first step we evaluate the datasets using published and freely available FAIR assessment tools. Subsequently, the best datasets will be evaluated by a jury to determine the dataset to be awarded.
Participation
The competition is open to all scientists working in chemical research at university or non-university research institutions based in the Federal Republic of Germany.
The application period for 2023 has ended. For 2024 you can apply from around September 2023.