On April 28, 2022, members of the NFDI4Chem consortium came together virtually to reflect on the progress of the project so far. Presentations set around three cross-cutting topics and a session dedicated to additional highlights also allowed for casting an eye into the future of the initiative. Roughly 60 participants from across the consortium were joined by ten members of the initiative's four advisory boards.
Activities for connecting the dots
Activities within NFDI4Chem are steadily increasing, resulting in an ever growing output of the consortium. Oliver Koepler, co-speaker of NFDI4Chem, highlighted this nicely in his welcoming remark to the Consoritum Meeting. His short presentation featured an impressive slide headed "NFDI4Chem in numbers" (see figure 1). A staggering 100.000 messages exchanged on rocketchat and over 100 meetings, workshops, talks etc having taken place since the start of the project, bear witness to the truly communicative nature of the initiative.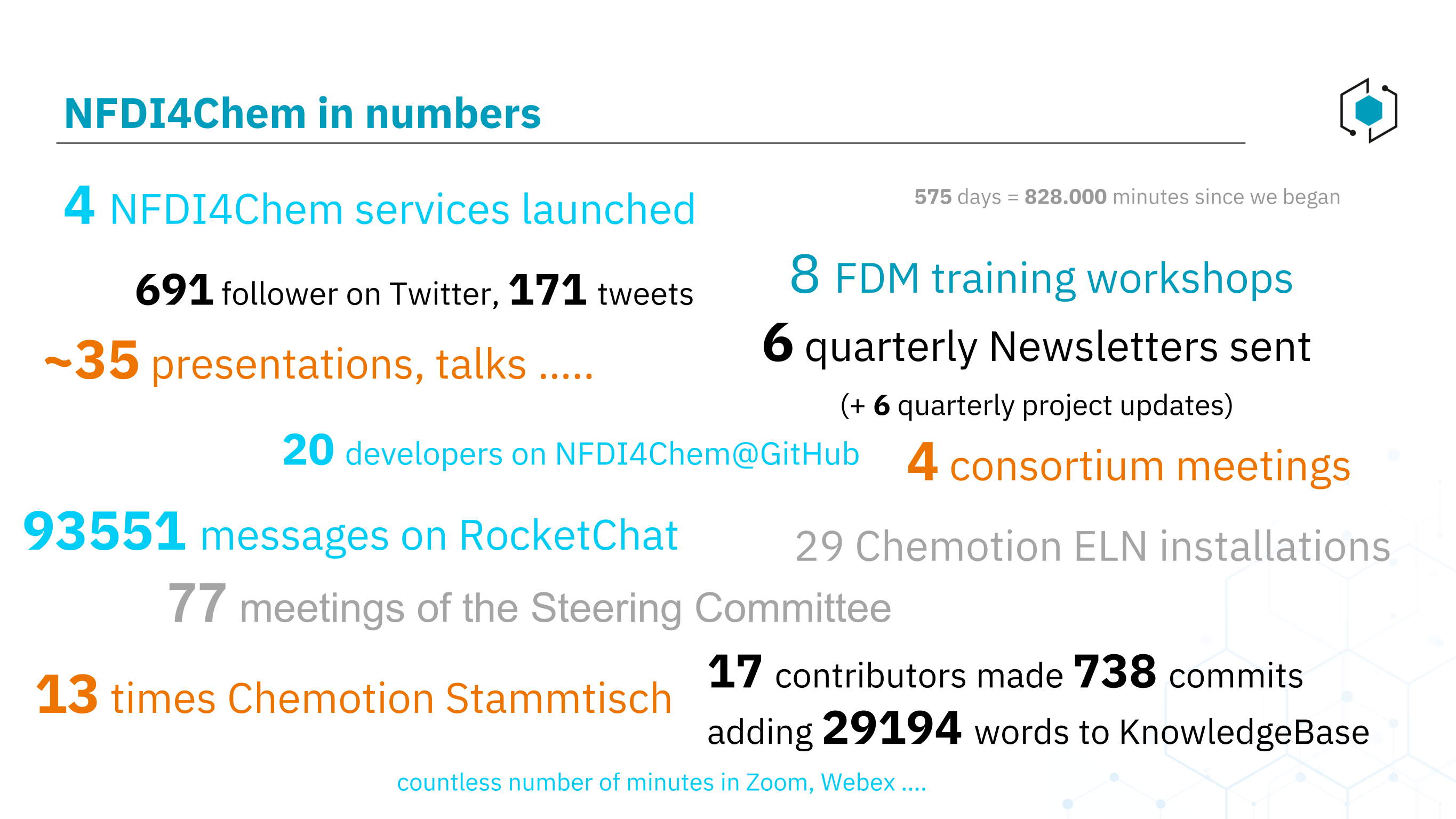 Cross cutting topics
To better illustrate the interconnectedness of the six task areas in NFDI4Chem, cross-cutting topics formed the backbone to the meeting agenda with contributions from across the consortium. Three sessions titled Metadata4chem, NMR4Chem and BestPractice4Chem featured presentations on the respective areas.
Steffen Neumann from the IPB led the first session. Together with Johannes Hunold, Bhavin Katabathuni and Philip Strömert he followed the flow of metadata in the research data life cycle. They also discussed models, storage and transport solutions for metadata in chemical research.
To present the work that has gone into FAIRifying data originating from NMR analysis, Johannes Liermann enlisted the help of Steffen Neumann, Nicole Jung, Michael Klix, Philip Strömert and Chandu Nainala. They gave an overview of how NMR data find their way from the lab to repositories and journals.
Best practises
In the third session on best practices in NFDI4Chem, Nicole Jung with the help of Johannes Liermann and John Jolliffe recapitulated the advantages of ELNs. They showcased the NFDI4Chem award and called for a cultural change in how errors are dealt with in academic research.
In the final session on recent highlights, Ulrich Schatzschneider presented TUCAN. TUCAN is a molecular identifier and descriptor that facilitates handling of metal complexes in ELNs.
Next, Kerstin Soltau introduced RADAR4Chem a new, generic repository for chemistry data, which the FIZ, partner in NFDI4Chem, recently launched.
The meeting closed with a lively discussion with questions from consortium members as well as from the advisory board.