Publish Research Data in a FAIR way in RADAR4Chem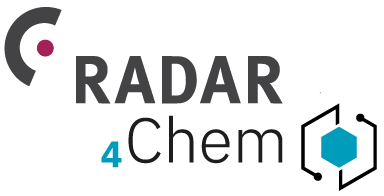 RADAR4Chem helps you publish your chemistry research data as easily as possible – without neglecting convenience, data security or legal aspects. And it is free of charge!
General Information
Are you conducting research in the field of chemistry? Would you like to publish research data from your research project in a FAIR way, but don't know how and where? – RADAR4Chem can be the solution you are looking for!
RADAR4Chem is a reliable and low-threshold publishing service for chemistry research data based on the established data repository RADAR by FIZ Karlsruhe.
With RADAR4Chem, we enable you to publish your digital research data easily, securely, and free of charge. At the same time, we offer the scientific community access to these research data publications according to the FAIR criteria (findable, accessible, interoperable, reusable). RADAR4Chem thus makes an important contribution to the improved availability, sustainable preservation, and independent publication capability of digital chemistry research data.
The tailor-made offer for researchers in the field of chemistry was developed within the framework of our participation in the NFDI4Chem consortium. FIZ Karlsruhe – Leibniz Institute for Information Infrastructure has been represented as a co-applicant in NFDI4Chem right from the start of the first funding round of the National Research Data Infrastructure (NFDI) in 2020.
RADAR4Chem Offering
With RADAR4Chem, you can upload the research data from your studies and projects via a web portal, compile them into data sets, describe them with metadata, have them peer-reviewed, and make them permanently available to the public.
You can publish all data types and formats with RADAR4Chem. The service is therefore suitable for research data from all areas of chemistry. You can publish data sets
for which there is no tailor-made, specialist repository yet, or
that contain such a large variety of data types that they do not fit into one single established repository, or
that you would like to link to a data set in a specialist repository via DOI.
As a researcher you do not have to pay any usage or publication fees for RADAR4Chem. You can also use RADAR4Chem independently of your institutional affiliation.
RADAR4Chem is based on the well-established research data repository RADAR Cloud, which was developed as part of a DFG project. Since 2017, RADAR has been operated by FIZ Karlsruhe – Leibniz Institute for Information Infrastructure on a secure cloud platform. Research data is stored in three copies at different locations in the data centers of the Karlsruhe Institute of Technology (KIT) and TU Dresden. RADAR is operated exclusively in Germany and according to German law and is of course GDPR-compliant.
With RADAR4Chem, FIZ Karlsruhe and its partnering data centers at Karlsuhe Institute of Technology (KIT) and TU Dresden provide a free storage quota for the publication of research data. Further, FIZ Karlsruhe takes over the fees for DOI registration of the datasets. The costs are borne from the funding budget for NFDI4Chem.
RADAR4Chem Features
Publishing service for all data types and formats
DOI registration (DataCite) incl. DOI reservation option
Unlimited retention period (at least 25 years)
Bitstream preservation
Annotation of metadata via metadata editor or by XML upload
Permanent identifiability, discoverability, accessibility, citability of records (according to FAIR criteria).
Optional embargo period
Peer review option prior to publication
Choice of licenses for subsequent use
Relatability with other digital resources
Automatic indexing of metadata (DataCite Metadata Store, OAI-PMH, search engines) for maximum dissemination of data
Login after self-registration or via DFN-AAI
Metrics on access and download numbers
Would you like to use RADAR4Chem?
To use RADAR4Chem, please complete the form below. We will advise you and explain details on how to register with RADAR4Chem, how to upload research data, how to annotate metadata, and finally how to publish.
The offer is exclusively directed to researchers at publicly funded research institutions and universities in Germany.
Currently, the use of RADAR4Chem is limited to a maximum of 10 GB storage volume per research project.
Before you can publish data in RADAR4Chem, you have to agree to the RADAR4Chem License and User Instructions (PDF).
---