NFDI4Chem has a clear vision of how to foster and simplify collection, processing, archiving, sharing, and publication of chemistry research data in a FAIR compliant way. We also aim to take leadership in chemistry research data management by providing best-practice example datasets. These datasets build an important block in the development of standards for metadata, minimum information, analytical data formats, and publications.
Our Lead-by-Example collection aims to provide a large body of real datasets. This collection documents the process of evolving FAIRness of chemistry research data, to surface practical issues, and to suggest improvements feeding other projects within NFDI4Chem.
Submitted datasets and their corresponding scientific publications are presented in NFDI4Chem Knowledge Base (Figure 1) in a recently updated fashion!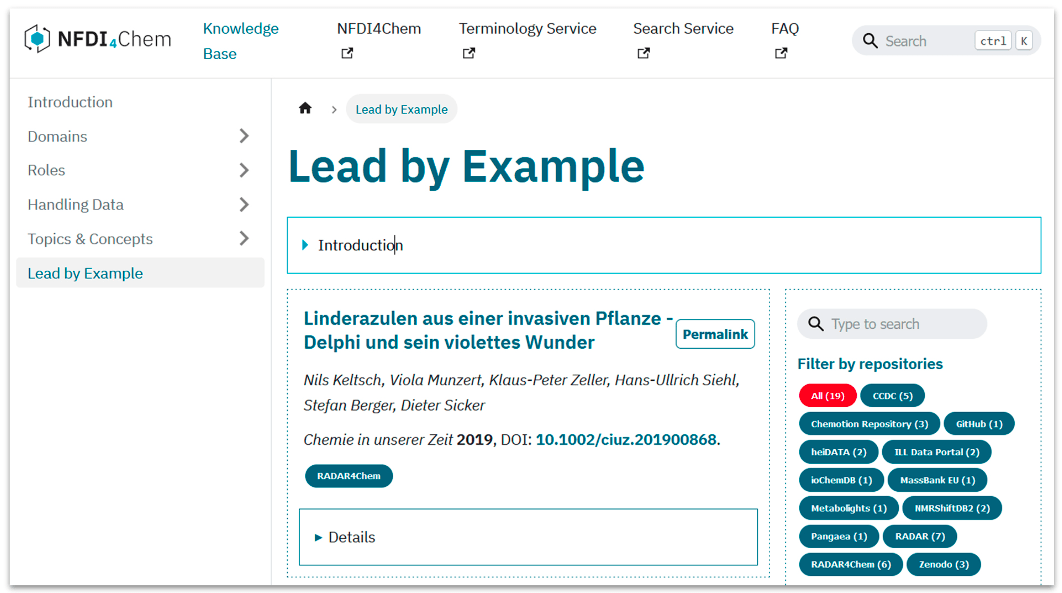 Please also feel invited by this newsletter to pledge your datasets to our survey form. We will also provide support via a consulting service to assist in publishing your research data! A suitable repository will also be suggested.
You are also welcome to pledge unpublished work, as this adds the opportunity to reference your dataset via DOI in the data availability statement of your manuscript. We guarantee to keep unpublished work as highly confidential, with the number of people provided access being highly limited and carefully regulated.