In the December 2022 software release, the FAIRness of RADAR4Chem was further optimised.
On the one hand, the RADAR metadata schema was updated and thus the possibilities of metadata annotation were further developed. In addition to standards data for individuals (ORCID) and funding organisations (Crossref Funder Registry), the new metadata schema v.9.1 now also supports standards data for organisations (ROR) as well as the Integrated Authority File (Gemeinsame Normdatei, GND).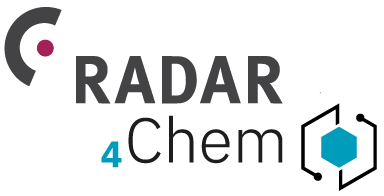 Furthermore, controlled vocabularies were further expanded (e.g. additional licence types as well as further relations for related resources) and pending adaptations to the current DataCite metadata schema were made.
On the other hand, the source code of RADAR landing pages were enriched with typed links in accordance with the signposting approach. This implemented an important part of the Fair Digital Object (FDO) framework, which aims to improve the interoperability and machine readability/actionability of scientific objects on data repositories, publishing platforms, etc. in a uniform and low-threshold manner.
More information on the software release (v1.15) can be found here.
Besides, RADAR4Chem is now also listed in re3data, the global registry for research data repositories.